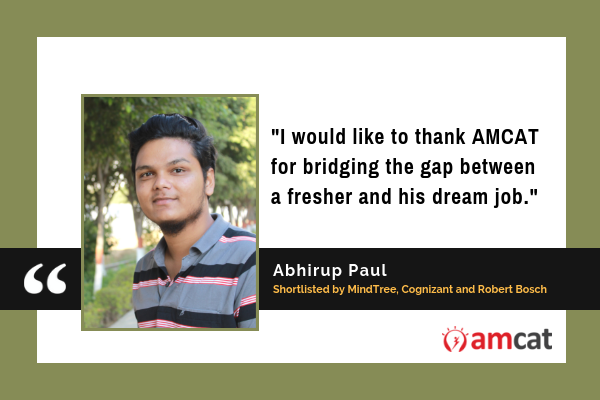 Getting a good job can be such a relief. The whole load of the college work and projects finally paying off as you embark on a successful journey. However, even after you seemingly do everything right, getting a job with a big company that pays well can still seem like a task. And, that is why you need the AMCAT exam.
Today, we will look at how AMCAT has made its success mark and impressed the candidates through this exciting success story of Abhirup.
Why did you opt for the AMCAT exam?
Keeping it simple and crisp, Abhirup replies that he opted for the AMCAT exam, "because it provides plenty of job opportunities."
"I remember I got emails that I was shortlisted every other day after giving the exam. Sometimes I received 4 to 5 emails in a day from different companies"
"Being a fresher you face a lot of rejections but the way out is to work hard and keep your goal in mind. Keep working hard and surely success will come soon."
Tell us about the job you got through AMCAT
"I got placed in Robert Bosch through the AMCAT exam. And truly speaking, it was the kind of job for which I had worked hard for years."
"I was not able to sit for the campus drives as I was already placed in Wipro and Sify. And, both had a normal compensation as per the industry standards for freshers."
"But then I received a call for Robert Bosch. It was an off-campus drive so I could easily sit for it. The added benefits and the post which the company was offering was very lucrative, so I started preparing for it."
"Apart from Robert Bosch, I was also shortlisted for Cognizant, MindTree and many other companies with a salary package ranging from 3 LPA to 6 LPA."
An elated Abhirup adds how "AMCAT did a splendid job in helping me, a mediocre candidate, complete different formalities for the company. I would like to thank AMCAT for bridging the gap between a fresher and his dream job."
Did the AMCAT feedback report help you in any way? 
The AMCAT feedback report can "help you evaluate yourself and work in areas where you lack knowledge and confidence. And if you know which areas you need to focus on, then it will make bridging the gap between you and a good job easier."
Talking about the many opportunities and easy accessibility provided by the AMCAT exam, Abhirup signs off on a happy note.
You too can easily pull off an Abhirup by focusing on your performance in the AMCAT exam and making the best of every opportunity that comes your way. So, don't think too much and schedule your AMCAT right away to not miss out on any opportunity.