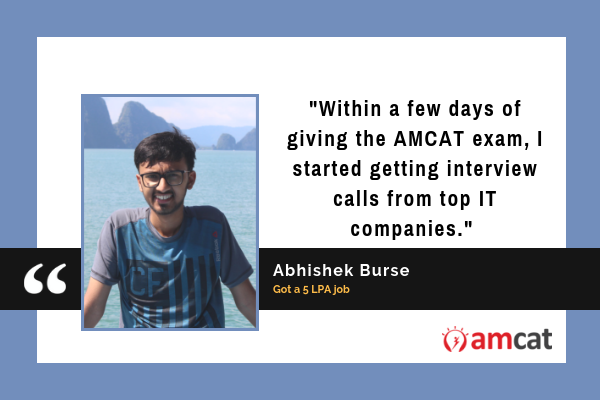 Being from a good college has its own advantages. Most of the companies, especially the bigger names, look at hiring candidates from these colleges. However, that doesn't mean students from tier 2 colleges are any less talented or skilled. It is just that they lack the means and opportunities to prove themselves. But not anymore, not with the AMCAT exam on the watch!
The AMCAT exam focuses on one thing very specifically, that is, bringing your skills to the fore. And, the success story of Abhishek Burse is a testimonial of the fact that so far, it has been successful in its venture.
Why did you opt for the AMCAT exam?
Abhishek first got introduced to AMCAT in 2018 through his college. He attended the seminar conducted by AMCAT and realised that he was missing out on a lot of things.
"I realized that there are so many jobs in the market that we as students of a Tier 2 college were not even aware of. I still remember when I first heard about the Daimler group through AMCAT, I was so naive that I didn't even know that Mercedes was a part of it."
How was your job search journey? Did you face any difficulties?
"When TCS visited our campus, I was pretty sure that I would crack the exam. And, due to my overconfidence, I did not prepare enough for the test. The result being, I couldn't crack it."
"Since only a handful of companies visit our campus, I started feeling tensed." However, that was not the end of Abhishek's predicament. He was unable to clear the interview process of the companies he did get a chance in. And it was around this time that he decided to go for the AMCAT exam.
"I registered for the AMCAT exam and started preparing for it. I scored well in all the sections and to my surprise, within a few days, I started getting interview calls from many IT companies. I gave many interviews and finally got selected in Robert Bosch."
Tell us about the job you got through AMCAT
"As I had scored well in the AMCAT exam, especially the aptitude and coding section, I started getting a lot of interview calls. From MindTree to ITC Infotech, I got shortlisted everywhere."
With so many offers in his kitty, Abhishek was in a relieved place when he saw that Robert Bosch was hiring and applied for the job.
How did the AMCAT feedback report help you?
The first time Abhishek opted for the AMCAT exam, he was under-prepared and couldn't score well in some of the modules.
"Through the AMCAT feedback report, I got to know about the sections where I couldn't perform well. The report also contained an analysis of my personality traits and gave me a chance to improve on the things which were hindering my growth trajectory."
Would you recommend AMCAT? Why?
"Initially, I was sceptical of agencies like Aspiring Minds. I gave the test purely because I did not have any job at the time. However, to my surprise, I started getting offers from big tech companies like MindTree, Cognizant, NTT Data, CGI software, etc. after a week of the test."
Abhishek feels that it is because of initiatives like the AMCAT exam that "students from tier 2 and 3 cities get opportunities which were earlier available to students of metro cities only."
"I would really recommend the AMCAT test to all students and have even advised my juniors to positively attempt it."
We at AMCAT are immensely proud of Abhishek and the long way he came to get a good job with a good job. And, much like Abhishek, success can be yours too. So, schedule your AMCAT right away to write your own tale of success.