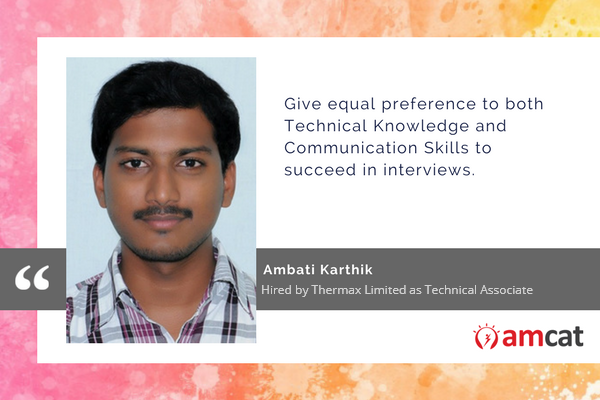 What do you when the competition gets too much? When you don't know where to look for great job opportunities? You come to us and give the AMCAT test, and we bring you closer to your dreams. How?
AMCAT is a platform that brings recruiters and students under one roof and connects them with each other. It opens up avenues for students to move beyond their marks and find something exciting, inspiring and fulfilling, despite everything.
Don't believe us? Then take the word of Ambati Karthik for it. A student of Gudlavalleru Engineering College, Karthik was introduced to the AMCAT by the training and placement cell of his college.
Why the AMCAT Test
Ambati Karthik was still in college with little experience to back him up when he learned about the AMCAT test. He was explained early on by his college's placement cell about the huge number of "opportunities through AMCAT". Convinced that it was the right way to go, Karthik took the test and enjoyed the whole experience of it.
As Karthik himself puts it,
"The AMCAT experience was really good. The questions which were asked tested our skills, hard work and accessed our personality."
Tell us more about the interviews after taking the AMCAT Test
Karthik says that he had to wait a good 2 months before he got his first interview call. However, once he moved past that, calls started flooding in and so far he has received more than 15 interview calls and job offers.
About the interview process, Karthik says that "the process was pretty systematic and friendly. It was all related to my technical knowledge and my communications skills."
Some words for other aspiring candidates
Ambati Karthik who believes the AMCAT test is important for those willing to seek out better job opportunities. He advises the aspirants to take the test seriously and
"Give equal preference to both Technical Knowledge and Communication Skills."
Congratulations Ambati Karthik, for clearing the AMCAT Test and finding truckloads of new job opportunities. You too can write your own success story, much like Karthik by scheduling the AMCAT Test today and applying for the jobs available at the AMCAT jobs portal.