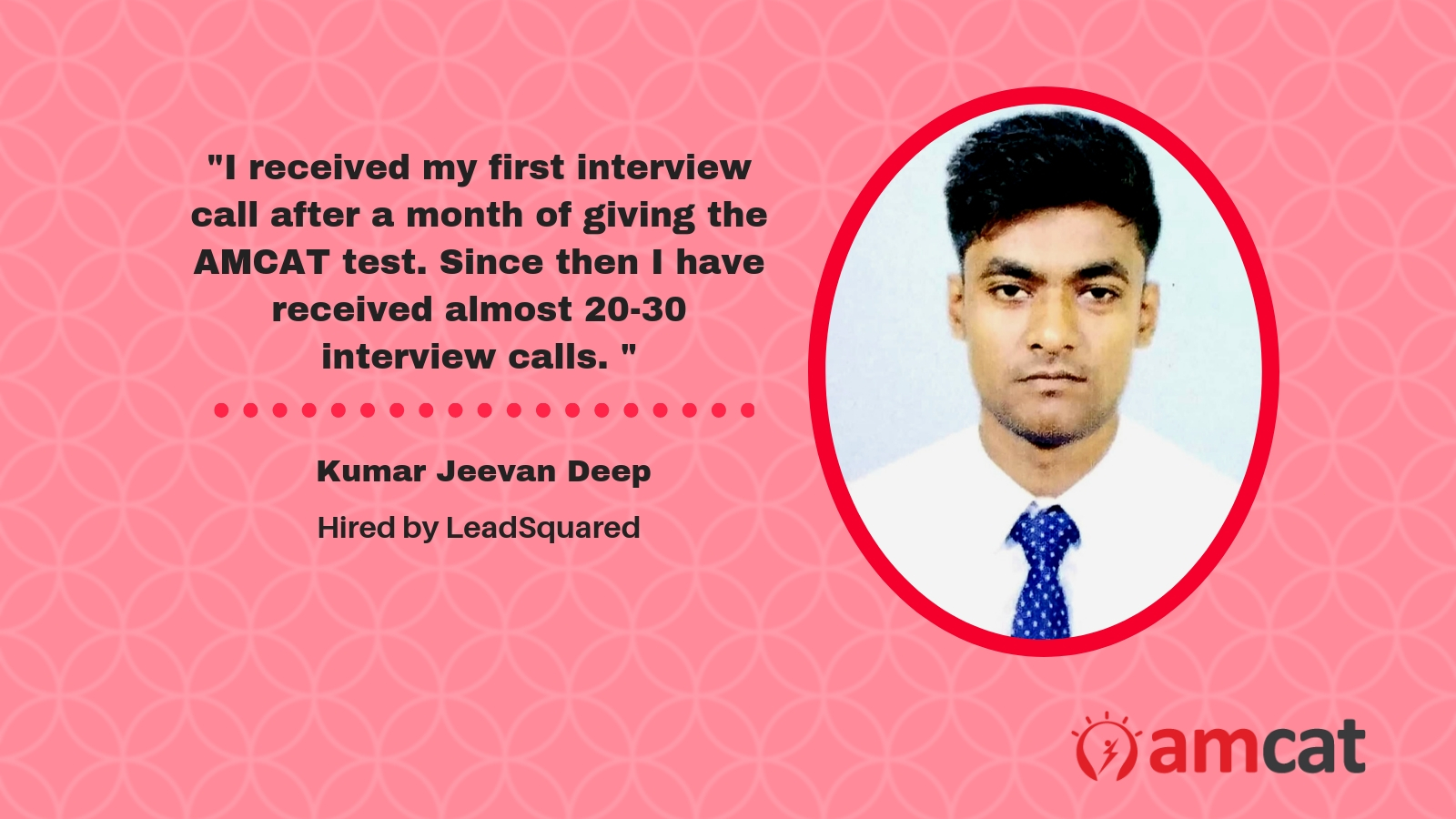 The AMCAT exam can be a perfect gateway for anyone looking to build an exciting career. While the AMCAT exam continues to bridge job seekers and recruiters together, we still get many questions from aspiring candidates regarding its effectiveness.
People often wonder, "should they give the AMCAT exam?", "does it help with off-campus placements?", and so on.
In today's article, we, along with Kumar Jeevan Deep, will cover all these queries.
Kumar Jeevan Deep is a passionate programmer who recently found his dream job at LeadSquared through AMCAT.
Let's hear what he has to say about it –
Q. Why did you opt for the AMCAT exam?
"In college, only two companies came for Campus Placements and I was not selected in either."
While the Campus Placements disappointed Kumar Jeevan Deep, he started keeping an eye out for off-campus placements drive. It was around this time that he heard of the AMCAT exam and decided to give it a try.
"I received my first interview call within a month of giving the AMCAT test. Since then I have received almost 20-30 job interview calls through AMCAT."
Jeevan realized it early that numerous service and product based companies hire through AMCAT regularly and it could help him beat the air of dejection. And, his faith paid off as he started one interview call after another.
Q. How did you prepare for the job interview?
 "After completing the written technical round, I was called for the job interview which was mainly about the subject and was a technical interview."
To prepare for the job interview, Jeevan decided to work on his basics and prepared interview questions on Java, C++, Data Structure, DBMS and web concepts.
Apart from the job interview, Kumar Jeevan Deep also had to sit through a written coding round. And, to prepare for it he did the smartest thing possible. And that is, prepared all the questions previously asked by the company to further strengthen his command on the subject.
Q. Any tips for other job seekers?
"For the job interview, always prepare questions previously asked in the company. This will give you an idea of the type of questions they may ask."
Jeevan also adds that you should really focus well on your aptitude as it will only aid you in your interview process.
Kumar Jeevan Deep recognised the importance of the AMCAT exam soon enough and it really helped him advance his career. Now a fan of the AMCAT, Jeevan says that he would "recommend the AMCAT to others, especially those who come from tier 3 colleges."
Yes, the AMCAT exam has especially proved to be a boon for students who don't have big college names to back them up or even very high marks in academics.
Of course, while the AMCAT exam can help you immensely, it is no magic wand and you need to put in some effort and hard work in the mix to make a successful broth.
So, take some cue from the success story of Kumar Jeevan Deep and get set to taste the fruit of success.