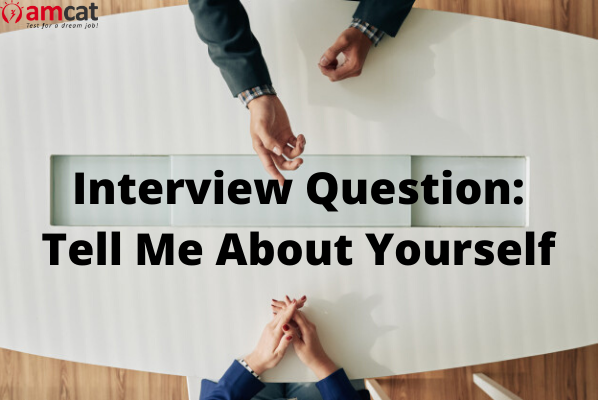 The recruiter already knows a lot about you. They know that you about your skills, qualifications, hobbies, etc. However, the recruiter still asks you "Tell me about yourself", even though they already have all the required information. And, most probably, you are going to repeat the same information that you put on your job resume. Although the question looks easy to answer because you have known yourself for so many years but knowing yourself will not to enough to answer this question because the recruiter is looking for someone who will be a perfect fit for the job role.
Hence, you should only mention things that will back your candidature up and highlight how you are perfect for the job post.
Why this interview question?
When drafting your job resume, we have already mentioned all the relevant information, qualifications, certifications, skills, etc. The recruiter has already shortlisted you based on your resume. So, what is the motive of the recruiter to ask you this interview question? The reason being that the recruiter wants to know why you think you are an ideal match for the job post and what you think you will bring with you. Plus, the recruiter is looking for any extra information that you might have skipped in your resume.
Moreover, this interview question is an excellent ice-breaker and will get to start talking about yourself. However, the recruiter is not interested in your personal life. So, don't even mention that.
How to answer this interview question?
When answering this interview question, make sure your answer is not too long. If possible, you should prepare answers to such standard interview questions beforehand because this will save you all the anxiety and nervousness when answering the interview question. Moreover, you will be more calm, prepared and confident during your job interview.
Hence, when answering this interview question, you should add the following things:
Your Background
After being through with the pleasantries. You should talk about how your extra-curriculum or internships are relevant to the job at hand and hone the required skill-set.
You can also mention college societies, you were a part of such as debating society, music club, etc.
Drop-in a few strengths 
You should list at least two to three strengths that are relevant to the job post. You can mention both your soft skills and hard skills. However, you should emphasize more on your soft skills. Through certifications, you can validate your hard skills but, the same can't be possible for the soft skills. 
You can also quote a brief example to showcase your skills. Plus, this is the chance for you to stand out from the rest. So, don't let it go.
Talk about your goals
You can end your answer with how this particular job post will help you achieve your long term goals. And why you want this job to advance your career and what your future career plans are.
What not to include in your answer?
The recruiter doesn't want you to start talking on and on about everything you have written on your resume. The recruiter already knows everything that you have put on your resume. So, talk about things that are not on your resume or explain important things.
Moreover, don't use filler words to try to make your answer more lengthy. Only mention things that are relevant and important for the job at hand.
Make sure you use these interview tips to answer this interview question and dazzle the recruiter with your impeccable interviewing skills and grab the job opportunity.