AMCAT exam has been of unparalleled support to many collegiates and job seekers. Especially, amidst the pandemic situation, where people are engulfed in all sorts of fear about the uncertainties the future beholds, this exam is trying its best to revive the shaken confidence of one's phenomenal competence."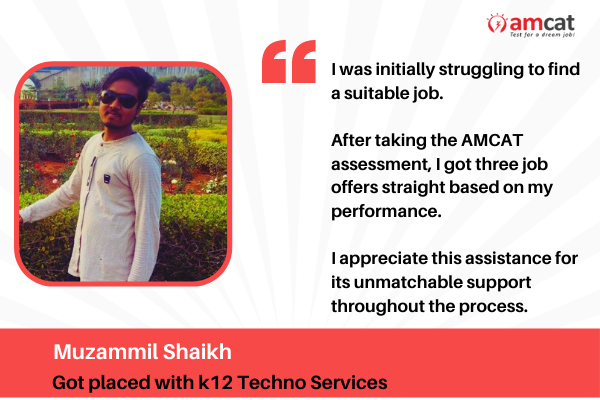 Muzammil, one of our candidates has shared a similar story of how from no job he landed his dream job through the AMCAT exam. Indeed, his competence surfaced with the assessment result. Do you want to know how he made it through unceasing ups and downs all this while?
Scroll down to unroll his journey.
Why did you opt for AMCAT Exam?
"I came to know about the AMCAT exam from various people in the industry. They expressed how this assessment is a great medium to find my dream job. Hence, without much ado, I registered for the same."
Muzammil asserted how his choice lived up to his expectations as unfolded the desired career through the exam. Let us find out more.
Do you want to book your AMCAT slot. Click Here to register.
Did you face any difficulties while looking for a job AMCAT exam?
On a positive note, Muzammil expressed that he didn't face any difficulty during his job search related to the test.
He added, "I could fetch my desired job with great ease on AMCAT. It is an appreciable platform as it is exceptionally convenient to us making it an uncomplicated territory for the new users. Besides, it offers numerous job opportunities and that is the utmost priority of the visitors."
Was there any issue otherwise during your job search?
"Yes. Due to the ongoing coronavirus pandemic, I was direly struggling to find a suitable job."
Also, this is precisely the reason why I was so drawn to the AMCAT test. I appreciate my decision of taking that step as it tremendously worked for me."
He continued, "Even on getting job offers, I had my share of issues. I couldn't go for Clover Ventures due to my leg injury. However, with AMCAT, it became easy for me to hop on to the next option and carry forward my job search without getting bogged down. I eventually, landed the job of my dreams."
Indeed, Muzammil shared a committed vision towards his goal. Despite the pandemic situation and his leg injury, he made it through all the challenges. We appreciate his unabating spirit.
It's now time to find out which job offer he finally got? It would be also interesting to see if he made it through only one option or more?
Let us find out.
Click Here to book your AMCAT exam slot.
Tell us about the job, interview calls you got through the AMCAT exam?
So now we are at the much-awaited segment- Muzammil's job offers.
He told, "Honestly, I was hardly getting any job unless my AMCAT result came out. However, soon after my result, I could see a ray of hope."
"I am glad to share that based on my AMCAT performance, I received 3 job offers. My journey had been full of twists and turns. It even showed up here as well. I couldn't attend the interview with Clover Ventures. However, this time, with even more determination and confidence in my abilities, I made finally made it to my dream job at k12 Techno Services." He added
Acknowledging the AMCAT exam's unparalleled assistance, Muzammil emphasized how a seemingly impossible job search could have crushed his confidence but by taking AMCAT and seeing the actual proof of his competence, he could gather the courage to carry on in his endeavour. This made him finally reach his goals.
Click Here to book your AMCAT exam slot.
How did the AMCAT feedback report help you assess your performance?
AMCAT Feedback report is an appreciable tool for anyone to see where they stand.
Muzammil shared," It has significantly helped me. I could see my pros and cons. It helped me demarcate my performance and where it stands."
Click Here to book your  AMCAT exam slot.
Would you recommend AMCAT to others?
Again with an expected assertion, he ended the conversation by telling us how he would recommend the AMCAT exam to his peers who are looking for a suitable job.
He said, "This is the best platform to get your dream job. Also, its user-friendly interface eases our inhibitions. So yes, it is an extremely easy medium to support our job search."
Indeed, Muzammil's has been an extraordinarily inspiring conversation.
He shares that with the continuous striving and the right support, anyone can achieve their dreams.
We wish him all the success in his professional endeavours.
All the best
Get in touch!