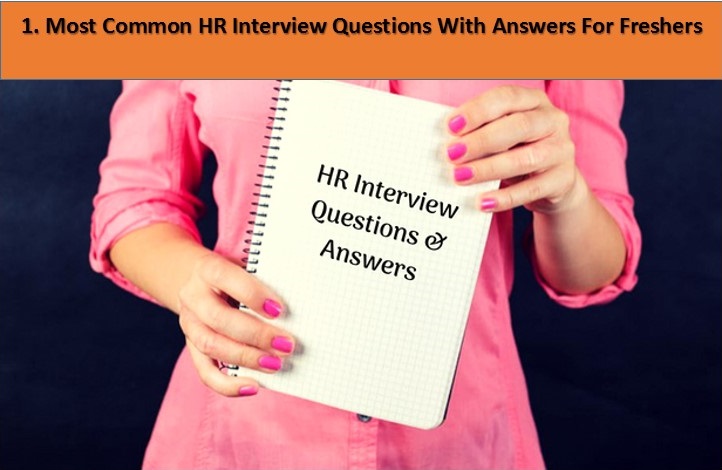 There are a set of interview questions that you can expect during the virtual hiring round. Before going for the interview round, you should prepare well to answer both job-specific questions and HR interview questions.
In order to get closer to your dream job, you need to answer all the interviewer's questions with relevant information. Everything you ask will be held against you, so make sure you use this opportunity to show the recruiter why you are the right fit for the job role.
We have curated this list of top 10 HR interview questions, you should before beforehand.
1. Walk us through your profile
Most likely this will be the first question that the recruiter might ask you during the interview round. This is an ice-breaker question that will help you ease up. When answering this question, you need to put forward information that is relevant and important.
The recruiter isn't interested in knowing details about your personal life. So, please refrain from mentioning any personal information. In your answer, incorporate information like your educational qualification, skills, relevant certifications and expertise.
2. What is your weakness?
This is one of the most common, yet popular interview questions. It is also the trickiest question of all. To create the right impression on the recruiter, make sure you minimize your weakness and put your strengths at the forefront.
Don't mention any personal qualities and only focus on your professional traits. Moreover, put emphasise on steps that you have taken to overcome your weaknesses.
3. Why should we hire you?
In your answer to this interview question, you should summarize your experience and qualification. Moreover, keep your skills and expertise at the forefront. You should go through the job description to find out keywords that you can use in your answers.
The information shared by you should match the kind of candidate the recruiter is looking for. Make sure, your answer is relevant and to the point.
4. Why do you want to work here?
The main purpose of a job interview is to evaluate whether you are a good fit for the job or not. By asking this question, the interviewer wants to assess why you applied for this particular role in this specific company.
In your answer, make sure you present your thoughts in a clear and concise manner. Don't let the recruiter fell that you sent out your resume just because there was an opening. Visit the company's website to learn more about them and their vision.
5. What are your future aspiration?
The motive of the interviewer is to know how serious you are about your career and future. It is best to talk about both your short-term and long-term goals. Also, talk about how this job role will help you achieve your goals.
If you don't have any short-term goal, then avoid getting specific and keep your concise and open. In addition to that, mention any online courses or certifications that you are doing to put your career on a fast track.
6. What differentiate you from the rest?
The best way to answer this interview question is by highlighting your skills and expertise. Put emphasize on what makes you unique and stand out from the rest of the candidates. If you have given the AMCAT exam, then you easily quantify your skills and job-readiness.
This will make it easier for the interviewer to assess your skills and traits. Combine both your technical and soft skills, while mentioning your past experience and ability to build expertise in the new domain.
7. What are your biggest three strengths?
To answer this interview question, it is time to pull out your old performance feedback and find the top 3 that are relevant to the job role. This interview question gives you a great way to brag about yourself and your skills.
However, make sure you don't come off as a narcissist. You can also mention positive feedback that you received from your colleagues, managers and professors.
8. What salary are you expecting?
Before going for the interview round, prepare by knowing the present rate in your area. You can go through LinkedIn or GlassDoor to find out the salary range prevailing in your industry. Use that data to quote a number during this interview question.
However, make sure you state a salary higher than the average to give the interviewer a chance to negotiate. It will be your advantage if the hiring manager tells you the range first. If you don't have any particular number in mind, then don't make the mistake of quoting a number from your heart. That might jeopardize your chances, rather ask for a salary as per the industry standard.
9. What are you passionate about?
The hiring manager is asking this question to ensure your sources of motivation align with the present job role. In order to adequately answer this interview question, try to be as specific as you can be by providing real-life incidents to back your answers.
Moreover, help the interviewer understand what drives you and what you care most deeply about. Select something that you are genuinely passionate about and explain why you are passionate about it.
10. Do you have any questions for us?
Many candidates don't know but this is one of the most important interview questions because it allows you to address any doubt or query that you have in your mind. Moreover, it shows the interviewer that you are serious and excited about the role.
Although by this point, you are most likely to cover all the topics related to the job position, so take this time to ask the interviewer questions about their experience in the company and ask for tips to succeed in your role.
Conclusion
Preparing for a job interview is much like preparing for an exam in school, you need to do your research and practice. Give mock interviews at home to brush up your body language and communication skills. The more prepared you are, the higher is your chance to succeed in your interview round.