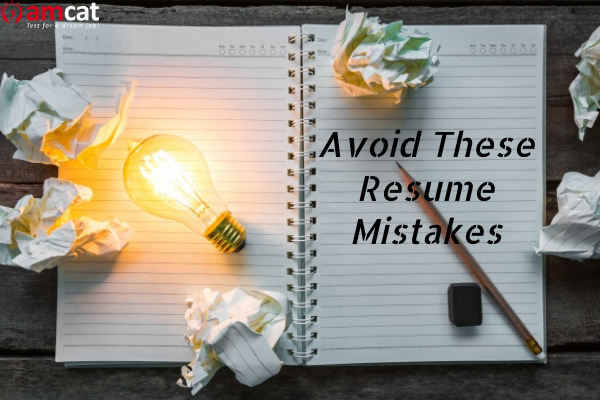 Even if you are an ideal candidate for the job, minor resume mistakes can sink your ship. Moreover, it will create a negative impression of you in front of the interviewer.
Hence, to help you sail the ship of your dreams, here are top resume mistakes you should avoid.
Spelling And Grammatical Error
No matter which document you are writing, you should always avoid making spelling and grammatical errors, especially if you are writing something as important as your job resume.
You want to make the right impression on the interviewer. However, a single mistake in your job resume can sabotage all your hard work. Moreover, it will make the interviewer believe that you are lazy and doesn't have an eye for details.
Therefore, while resume writing, make sure that you proofread your resume as many times as you can. In fact, you should also make other people read your resume and ask for any valuable suggestions.
Uncustomized Job Resume
Every job role is different. Hence, when resume writing, you should customize your resume as per the job post. Moreover, sending the same resume to all the job vacancies will not only reduce your chances of getting the job, but it will also create an impression of you being lazy.
Missing Or Incorrect Contact Information
The first thing that you put on your resume is your contact details. Your contact details should include your address, phone/telephone number, email id, and more.
Now, the first thing, you should do when resume writing your contact details is to make sure they are correct and updated.
The second thing to keep in mind is to keep your email id professional. Formal email id might not increase your chances of bagging the job, but a terrible email id might reduce them.
Lastly, don't mention any personal details such as your religion, picture, marital status etc
Plain Job Resume Format
The look of your job resume is as important as the content of the job resume. Moreover, your resume should compel the interviewer into putting it into the considering pile. Plus, an eye-catching resume will make your profile stand out from the crowd.
If you are going for a job role where creativity is required, then you should experiment with your resume and make it speak for itself.
Outdated Or Irrelevant Information
On average, the interviewer gives your job resume a window of 30 to 60 seconds to make the right impression. Therefore, you should only put information that adds up to your candidature and is relevant to the job role. Hence, mentioning outdated information will do you no good.
Moreover, putting unnecessary information on your resume will make it lengthy. An ideal job resume should not be more than two pages long.
Not Emphasizing Skills
When resume writing, the one thing you should keep in your mind is to emphasise your skills and job readiness. The being, it is your skills and abilities that make you employable. Plus, your skillset will show the interviewer that you are ideal for the job role and are capable of shouldering the responsibilities associated with the post.
Inappropriate Buzzwords Or Lack Of Keywords
When resume writing, you should always include keywords from the job description in your resume. Adding industry-related keywords makes your job resume more professional and customized.
However, that doesn't mean that you have to overstuff your resume with keywords. Similarly, a lack of keywords can have an impact on your chances of getting the job.
Moreover, only use buzzwords that are relevant to the job role and are appropriate. Don't mention any slangs in your resume when resume writing.
These are some of the major resume mistakes that you should avoid at any cost when resume writing. Moreover, if you are not sure about the content and the look of your job resume, then you use Resume Buddy. Resume Buddy is a tool which houses more than 25+ resume formats and will help you make the best possible resume.