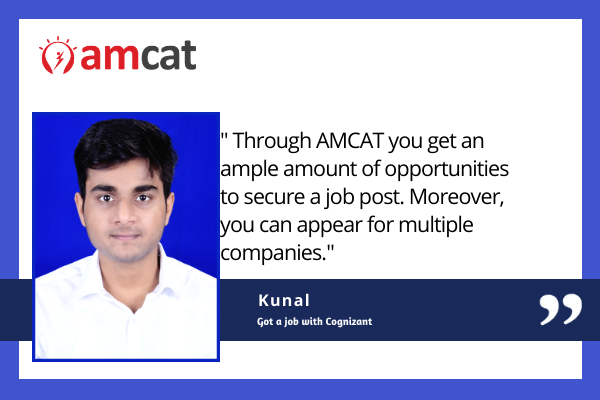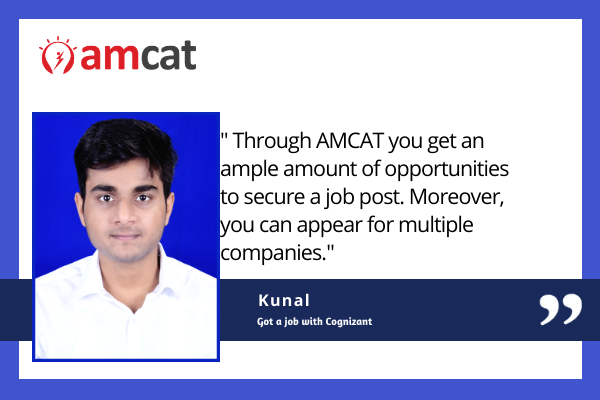 Getting your dream job is now a reality with the AMCAT exam. All you need is determination, hard work and AMCAT to make it your truth just like Kunal. And, his pursuit for a fulfilling career finally came to an end when he successfully bags a job with Cognizant.
Why did you opt for AMCAT?
AMCAT exam is an employability test which assesses your skills and job readiness. Moreover, it back your candidature up and presents you as an ideal candidate for the chosen job role.
Now, this is the reason why Kunal chose AMCAT. He wanted to get a good-paying job in a recognised organisation, which he ultimately get.
While looking for a job, did you face any difficulties?
"No," says Kunal.
AMCAT made Kunal's job search experience easy breezy and made him get his dream job.
And, his hard work paid off, Kunal was able to score a work opportunity with Cognizant and started his career with a bang.
How did the AMCAT feedback report help you assess your performance?
According to Kunal, " AMCAT feedback report keep him up-to-date with his preparation and ongoing activities. Plus, the feedback report helped him to be updated from time to time."
The AMCAT feedback report shows you where your preparation stands and helps you in understanding both your strengths and weaknesses. Now, this helps you in choosing the right career paths as per your skills and abilities.
Would you recommend AMCAT to others?
"For sure, through AMCAT you get an ample amount of opportunities to secure a job post. Moreover, you can appear for multiple companies."
Now, you need to score well in your AMCAT exam to reap a successful job opportunity. However, once you have a good score in your hand, then no opportunity is out of your reach and, nothing can stop you to bag the job you always wanted.
So, schedule your AMCAT without any further delay and welcome the opportunities coming your way.