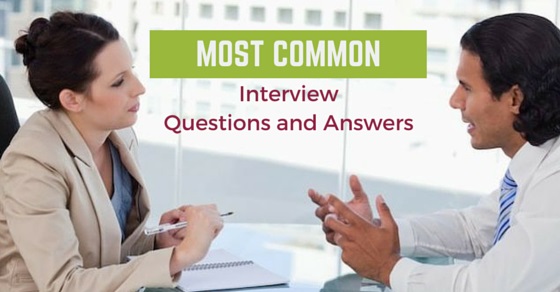 The big tech companies go to extreme lengths to become the 'Hit' place to work amongst youngsters. The unbelievable employment perks, utopian deals, glass offices, and an open culture are tempting enough to make you swoon for an offer with these firms.
Clearly, the jobs in such IT giants wouldn't be so coveted if they were easy to get. Well, during job interviews at IT companies, like Google and Facebook, interviewers are likely to throw curveball questions like 'what is the best way to clean the floors?' instead of the common interview questions. Sounds intimidating?
The fancy jobs in IT can be secured only with a great job interview performance, which is a result of rigorous interview preparation.
The questions asked during job interviews are a mix of some common interview questions and bread-strikingly odd ones that can throw you off completely. You must, however, prepare for the common interview questions to ensure the least chances of failure.
So, we have compiled a list of 8 common interview questions asked by IT companies during a job interview.
Common interview questions asked by IT companies
The bad news is that a job interview at IT companies can be tricky minefields, designed to surface your weak points. But, the good news is that you can practice answering at least the common interview questions ahead of time. Here are the top 8 questions that are most definitely asked by IT companies.
"What interests you about this role?"
During interview preparation, spend some time researching about the role you're applying for. Think of at least two standout skills you'll need to be able to perform in the job role. Think of how you've used these skills in past jobs. If not that, at least think of two examples of how you've administered these skills or plan to use them in your upcoming job role.
"How familiar are you with… (subject area of the job profile)?"
Tech companies are not looking for specialists rather they wish to hire competent individuals with the drive to perform better. Naturally, this is one of the most common interview questions asked by IT companies.
For example, the interviewer wants to check how familiar you are with the core programming language; if you are applying for a developer role.
While answering, you would not want to come across as a master of one and complete failure at another language. Instead, show how well-versed you are with coding and how you're willing to learn what's new and upcoming.
"How do you keep up with industry trends?"
This is a crucial question for anyone in the ever-changing industry of Information Technology. In a job interview, the hiring manager wants to know what are your sources of knowledge, to gauge how potentially beneficial you will be to the company.
Whether you've subscribed to tech magazines, tech blogs, newspapers or podcasts – the hiring manager is all ears. Tell him about it.
This common interview question is an inevitable part of the IT company job interviews. Mostly because technology is a fast-paced and ever-evolving industry. It needs professionals who can keep up with the dynamics by staying abreast of all the current and future trends, challenges, and potential opportunities.
"Given a problem, what is the solution you'd provide?"
In IT company job interviews, you are likely to be given a case scenario where you are to find a viable solution to the problem. The hiring manager wants to analyze how well you'll cope up in a tricky situation. Whether you'll fit well in a team or perform like a laggard alone.
Being able to eloquently describe a solution to a role-specific issue not only gives them great insight into your skills and character; it also enables them to picture how you'd progress within their company.
"Do you work best alone or in a team?"
No matter how tempted you are to take sides; do not. Why? This is because an ideal tech candidate must be able to perform efficiently alone and within a team too.
A possibly appropriate answer to this common interview question should reflect on how you love the energy and dynamics of a team but also love the concentration and focus of working solo.
"The programming test"
A practice test? Sure, why not. Do not be surprised if you're handed a test by the 2/3rd round of the job interview. In IT companies, how you arrive at the solution is far more important than the solution itself. So, during interview preparation do not shy away from taking a practice test or two.
Remember, practicing makes you proficient and interview preparation makes you calm.
"Why do you want this job?"
Whether IT or not, this is a very common interview question in all sorts of interviews. While answering this question think of why you're a good fit for this job role. Also, think of some key attributes of the organization that make it a great choice for you.
While answering, do not hesitate to showcase your current skill set, which can be beneficial to the job position.
Do not forget to practice it out loud because even the best of answers sometimes sound lame or over-dramatic during the speech.
For honest reviews on each of your answers, you must practice mock interviews with Mock AI. It is a special interview preparation tool that evaluates your overall interview performance basis your voice modulation, facial expressions, and body language. These mock interviews can be taken up at any time before the main interview day.
"What are your strengths and weaknesses?"
One of the most common interview questions is on strengths and weaknesses. Don't brag and yet don't hold back completely. Talk about your strengths that are, of course, related to your job profile too.
For instance: For a programming job in IT company, you should have an analytical bent of mind, undivided concentration, strong mathematical skills and, command over a programming language.
However, if you mention great communication skills as your strength, it would be totally irrelevant for a job in IT.
Similarly, for weaknesses, do not portray them as you minus points instead turn them around as challenges that you are willing to fight against. An employer wants to know about your weaknesses but also wants to know how you're going to win them over during your tenure at the company.
As the old age saying goes – Fail to prepare; prepare to fail. Do remember that no great interviewees have ever nailed an interview without interview preparation.
A great interview is a result of hard work, genuine talent, the presence of mind and confidence in the interview room. Whether you're answering the most common interview question or the weirdest question, just do it with a positive attitude and good vibes. You never know what the employer truly wishes to see in the prospective employee.
For a solid preparation for your job interviews, try Mock AI today.