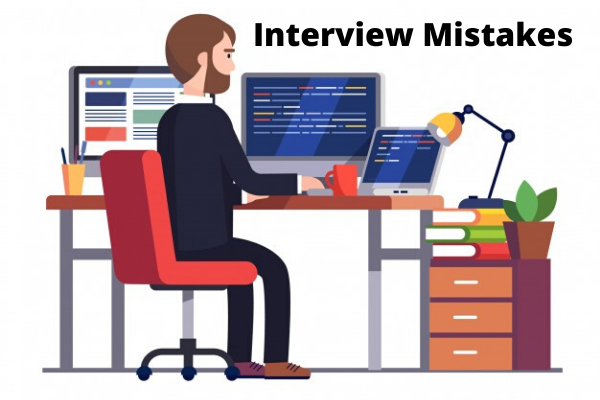 A job interview is the last step towards your job search. Now, this is your chance to redeem all your hard work. But to redeem yourself, you need to have to know the kind of mistakes you can make when sitting on that interview chair and answering the interview questions.
So, to dodge such bullets; here are some of the mistakes you make.
Coming Unprepared
The most important thing that you must do is to prepare for the job interview. Going unprepared for an interview will not only reduce your chances of getting that job, but it is also very unprofessional. Although the questions asked in the interview are general, but in reality, these simple-looking questions are tricky and, you must prepare yourself to face them.
Moreover, if you think the interviewer won't know that you are unprepared then, you are wrong, the interview will know. And, this will create a negative impression of you.
Not Answering The Questions Properly
As mentioned earlier, the interviewer will ask simple and straight forward questions, but these questions are not easy but tricky. So, to dazzle the recruiter into giving you the job, you need to give perfect answers to each one of them. And, to do that you need to sketch answers to the interview questions and perfect them.
However, don't mug up the answers because the recruiter will know. Try to remember the points of each question and the things you want to include in them.
Lastly, keep your answers brief and polite. You can add a bit of humour as long as it is not offensive and unprofessional.
Dressing Inappropriately
It is rightly said that you should dress for the job you want and not the job you have. Keeping this saying in mind, you should dress to show the recruiter that you are serious about the job.
Through your clothing, you should present yourself in a way that tells the recruiter that you are job-ready and the perfect candidate for the job. Hence, you should dress appropriately to create a positive impression on the recruiter.
Dressing inappropriately will make you look lazy and not serious about the job and, you don't want that you want to bag this job opportunity. Therefore, your clothing is very important.           
Unprofessional Behavior
The recruiter already knows about your skills and qualifications, that is why you got the interview. Now, the interviewer wants to know more about your soft skills. The interviewer is interested in whether you can easily adjust in the new environment and how you treat people around you.
Therefore, throughout your interview, you must act professionally and politely. An unprofessional behaviour can cost you the job even if you are well qualified for it. Hence, keep your behaviour and manners in check.
Informal Language
When speaking you should be very careful with your words and tone because sometime you might subconsciously say somethings that might be rude or even unprofessional. Throughout your interview, you should always be formal with everyone. Moreover, polite words and a smile can go a long way.
A balance of everything is safe and having confidence is good, but overconfidence can be harmful to your job prospects. Therefore, keep these simple mistakes in your mind and try not to make them. And, if you think you want to practice your interview skills then, you can take help of Mock-AI.