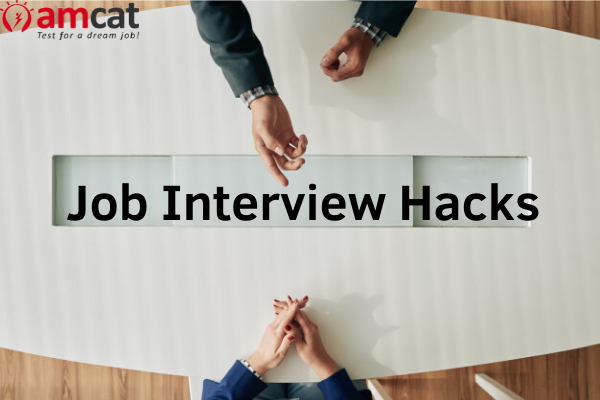 We all know the do's and the don'ts when it comes to job interviews because why not? Job interview is the most crucial step in getting the job you want. It is also the very last step in your job search everything was leading up to this very moment that, can either make it or break it for you and your hard work. But sometimes working hard can be very different from working smart.
Therefore, to help you crack your job interview smartly, we bring top hacks for you to learn and apply in an actual job interview.
Ask Questions To The Interviewer
You should start working on this tip when you are preparing answers to some common interview questions. Because a good interview is not just the interviewer asking questions after questions but for you to learn more about the company and your role in it.
Therefore, you should prepare a handful of thoughtful questions that you can ask the interviewer. Through your questions, you can show that you have done your research. All this will create a positive impact on the interviewer.
More Than Your Skills
The reason why you scored this interview is because of your impeccable resume. So, the interviewer already knows about your qualification and skills. Now, you have to show the interviewer what kind of human being you are.
You need to show the interviewer that you are a warm person and adaptable to your surroundings. Hence, try to focus on creating a good impression on the recruiter because only you can do it.
Therefore, when answering questions, try to be considerate and smile in between. Be polite to everyone you encounter on your job interview day.
Small Details Matter
No matter whether you are a fresher or an experienced candidate, job interview makes everyone anxious. And, sometimes in your anxiety, you forget the finer details. Details such as long unkempt nails, loose-fitting clothes and the condition of your shoes are important details to external appearance.
Therefore, you should pay attention to such small details as they might cost you the job interview because your appearance says a lot about you.
Preparation Is The Key
Now, this might not be a hack, but you must know. No matter what you do, preparation is the ultimate key to success. Therefore, you must prepare everything in advance so as not to create last-minute panic.
First and foremost, draft your answers to some standard question. Doing this will help you in facing the interviewer with confidence. Next, you should decide on your outfit of the interview day. After that, work on your body language and etiquettes because actions speak louder than words.
These are just a few things, but they have the power to impress the interviewer with your personality and communication skills.
Follow up
After your interview, you should write an appreciation note to the interviewer. It will show the hiring manager that you want to work in the company. However, when writing the thank you note, try not to sound desperate for the job. It might have the exact opposite outcome.
Many people know about it, but not many make use of it. Now, this is an opportunity for you to make a better impression on the hiring manager by sending a follow-up mail, thanking them for their time and consideration. You should send the mail within 24 hours and, it should not be more than three paragraphs long.
When you work smartly, you are more time-efficient and less anxious. These clever hacks will surely make any job interview success and, you will come out with a job in your pocket. So, make good use of these hacks and success is yours to take.