Writing a thank you email after an interview is an integral part of the final selection process. It not only acts as an acknowledgement from your side but also opens a window of communication.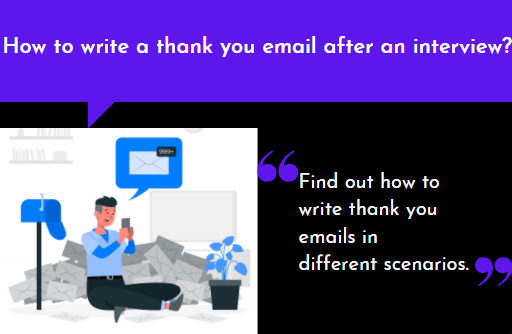 Therefore, through a "thank you email", you can display your sincerity to the employers. Also, it is an expression of your eagerness towards the process. It is imperative to understand that you don't just exercise thanking as a matter of impressing others. However, imbuing such a habit will help you in every walk of professional life. It is more about your way of being rather about others. Therefore, here are comprehensive insights into writing a thank you email after an interview.
How to write a thank you email after an interview?
Unlike the common view, interviews are not just meant for jobs but are involved in various facets of professional life. It may be your dream internship or a freelance gig. All of these involve an interview at various stages. Henceforth, writing a thank you email in such cases becomes pivotal. Therefore here is how you can engage this activity in the following scenario:-
Best possible response for various scenarios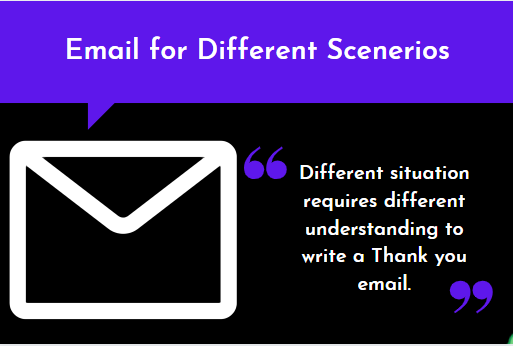 1. Thank you email after an internship interview-
You may be starting an internship during your college final year or in the pursuit of a job switch. Professionals also join internship to switch their career path. Now in all such situations, they may undergo an internship interview. To which a "thank you email" can add colours to their job application process.
Sample:
Hi XYZ,

Thank you for offering me a wonderful opportunity to work as a "Content strategist" intern your firm. I appreciate your time in entrusting my skills to add value to your projects. Looking forward to contribute my best and learn alongside under your guidance.

Best Regards
ABC
2. Thank you email after a freelance project interview-
You may be trying to enhance your profile during your college. Or you may be trying your hand on a new skill for which you undertook a freelancing project.
90% of the chance to get that project depends on how you present yourself.
In such scenarios, writing a thank you email to close the deal is crucial. You may wonder why? it is because many times the employer may sound positive but they do not respond for several reasons. However, you need to make sure that you do not lose out on any chance from your side. Therefore, by writing a thank-you email, you open the window for:-
i. quick response,
ii. further communication,
iii. professional impression from your side.
Sample:
Hi XYZ,

Thank you for the wonderful interaction. I am looking forward to a long-term commitment towards this project. Let me know your thoughts on taking this forward or not before I take the next step with other projects. I shall therefore get the rest of the formalities done accordingly.

Best Regards
ABC
Note. In case the deal has been closed. Then share further formalities and document related to work along with a "thank you" note.
Did you see? This email had a CTA line along with expressing thankfulness towards the interaction. In this way, it escapes sounding clingy and too flattery to the employer. You need to maintain a subtle amount of distance in expressing your gratitude. Sounding too rosy may repel a potential prospect. Also, writing just for the sake of formality will repel prospects from you.
Besides, you should not sound desperate for the deal. Rather you should appear relaxed and okay with any sort of results.
So take care of your stance by:-
i. Adding a CTA- call to action will urge them to decide faster,
ii. By writing that you are eager to hear the response and at the same time would jump to new projects if it doesn't work shows how comfortable you are with the rejection. It drops down the chances of you looking desperate for the opportunity.
3. Thank you email after a job interview-
You made it through your dream job interview. After different kinds of interviews– some grilling session while others friendly interactions and finally you got through that competing with hundreds of other applicants. Therefore, now is the time to show your gratitude to them for hiring you as the perfect fit.
Sample:
Hi XYZ,

I appreciate you taking the time to patiently assess my candidature. I, therefore, thank you for trusting my abilities for this role. Looking forward to creating value through my work here.

Best Regards
ABC
Pro Tip to write a thank you email after an interview?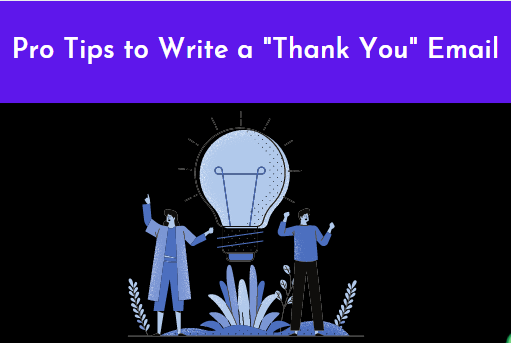 i. While writing such an email, avoid making it too flattering. At the same time, do not write in such a way that it is done for formality-sake. Both the cases will not work well. Therefore, try writing genuine responses which can create a lasting impact.
ii. Also, recruiters, do not have time to read long texts. Therefore, add brief notes expressing your gratitude.
iii. Write distinct details to demarcate your experience. Henceforth, you will showcase your observant quality.
Give your best shot during that dream interview with AMCAT Mock AI. 
Click Here to register.
Conclusion
You must now have been thoroughly clear about why it is so important to write a "thank you" email after an interview. It is also imperative to understand, how you need to change the tonality of the email with the changing scenarios. Now that you have learnt about it, go all out and apply for your dream opportunity.
All the best
Get in touch.