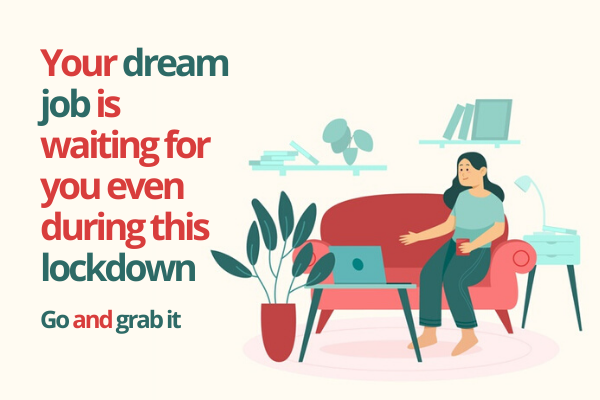 As you get ready to enter the corporate world amid the coronavirus pandemic, you might be feeling mixed emotions about the future that lies ahead of you. Your job search, especially your first job will teach you some valuable lessons. However, wading through the unfamiliar waters and not knowing where to start can be tough work.
With this online jobs during lockdown guide by your side, you will be equipped to overcome the job search landmines during this lockdown
Be Clear With Your Goals
This will be your jobs during COVID-19 lockdown, so before starting your job search, take some to find out about your strengths and weakness and the type of work you are interested in doing. Job satisfaction is very important, that is why get to know yourself before going out to search for a job.
Moreover, try to find out more about the job roles that are in demand during this pandemic. Doing this will help you make an informed first step towards your dream job. So, be very careful about what you want in your career and how do you plan to achieve it.
Make Connections
More than 90% of recruiters use LinkedIn to connect with potential candidates, especially during the pandemic. If you are looking for your first jobs after lockdown, you need to be on LinkedIn.
For instance, what if tomorrow, a recruiter wants to find someone in your city, with your skills but you are not there? You will lose this chance and many such opportunities if you are not active on LinkedIn.
Another thing that recruiters are using to shortlist candidates is AMCAT. With AMCAT, you get access to AMCAT exclusive job opportunities based on your skills and job-readiness.
Tailormade Job Resume
This might be your first time creating a job resume, don't worry about making mistakes, everyone starts from somewhere. It doesn't matter how many mistakes you make when making your job resume, as long as there are no mistakes in your final job resume. However, you still need to show the recruiter that you are professional and serious about this job role.
The competition has significantly increased during the pandemic, so need to make sure that you create a resume which is perfect. Everything from your contact details to certifications should be relevant and in bullet points. Moreover, to give your resume an edge, you should attach a cover letter to it. Adding a cover letter will strengthen your candidature, which is exactly what you need to do during this pandemic.
Time To Prepare For Virtual Job Interview
Due to the coronavirus induced lockdown, the recruiters have shifted to virtual/online recruitment process. The motive of the traditional interview and the virtual interview is to assess you and whether you are the right candidate for the job.
Recruiters are using tools like Skype, Google Meet and Zoom to conduct interview rounds. The preparation for the virtual interview is the same as that of the face-to-face interview. However, during the virtual interview, you need to show the recruiter that you have the skills to work remotely without any technical glitch from your side.
Continue Working On Yourself
There will be times when you won't hear back from the recruiters however, don't lose hope and continue to work upon your candidature. One of the best ways to improve your chances of getting your dream job is by having industry recognised certifications on your profile.
In fact, rather than waiting for this lockdown to end, you should use this as an opportunity to get your first jobs during coronavirus pandemic in your dream company
Everyone is waiting for this pandemic to die down so that they can go back to how things were before this coronavirus pandemic. However, time waits for none, make the best of this lockdown and don't stop looking for opportunities.
Don't stop working towards your dream job.
All the best!