AMCAT Ambition has been a great learning opportunity for the youth across the country. The young minds came forward elucidating their ideas and aspirations virtually.
Lately, it had been observed that many of them, unfortunately, missed the last chance as they failed to apply for the contest. Due to that, AMCAT has decided to extend the contest date by not just one or two days but 15 days at a stretch.
Therefore, aspiring candidates still have one more chance to give their best shot in the contest. Instead of sitting and thinking about when to act, it is high time to apply and learn.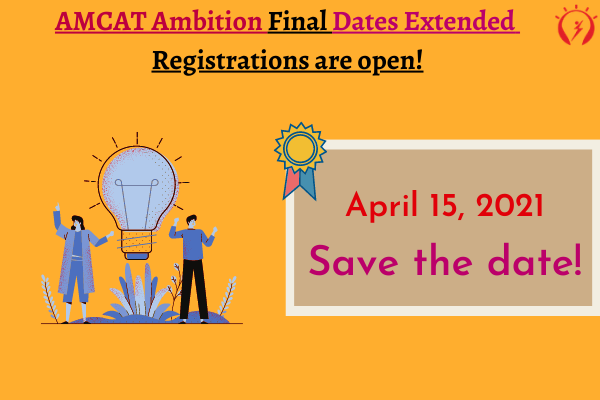 Delve into the comprehensive insights of the competition. Seize this opportunity now!
Register for AMCAT Ambition Now! Click Here
You are Just 15 Days Away from Exciting Rewards | AMCAT Ambition New Dates
Kindly note- AMCAT Ambition contest final date is now April 15, 2021. On participating in this competition, the winners will be recognized with stirring rewards described as follows:-
1. Top Three Winners- They will receive a SAMSUNG Tablet worth Rs 15,000/-
2. Next Top 10 Winners- They'll win AMAZON vouchers worth Rs 2,000/-
3. Next Top 25 Winners- These participants will win the free resume buddy subscription for 3 months.
How to apply for AMCAT Ambition 2021?
Aspirants who wish to apply for the contest, are supposed to visit the official website www.myamcat.com After that, click on the "Book AMCAT To Win." Those who have already taken the AMCAT test can choose the "Already Taken AMCAT" option.
Enter the required details. You will be directed to the payment gateway after that. You will also receive a confirmation email on the successful registration.
AMCAT Ambition Participation Flow
Eligible candidates will receive a video sharing link over their registered email. Kindly shoot your video as per the guidelines stated in the instructions. Submit the video and take the AMCAT test according to your booked slot.
Winners will receive the awards according to their final results.
This is a one of a kind opportunity and this is precisely why it is knocking on your door again and again. However, it is soon going to end. So this is the time for you to take your chances and make it big in your professional endeavours.
Conclusion
AMCAT Ambition is a golden chance for anyone who is kickstarting his/her culture, is studying, or is working. This contest will acknowledge your aspirations and ideas. It will also help you get clarity about dreams and goals. Therefore, grab this one last chance.
"Even a correct decision is wrong when it is too late."
It is your time to act now.
Save the date- April 15, 2021.