How to write a good resume? This question is probably the most critical concerns of the freshers. Since a resume is the first description of yours to the recruiter. Therefore, extra care must be taken while writing one.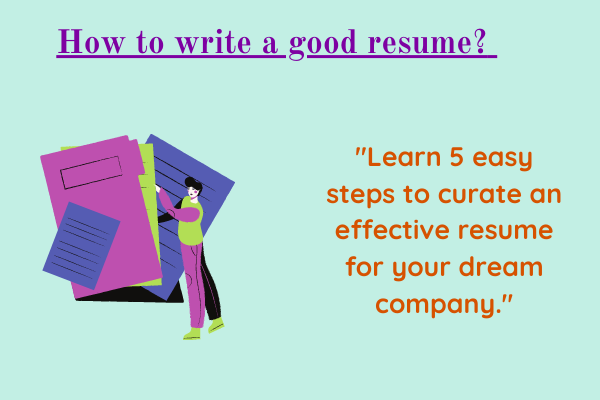 However, many freshers face a hard time curating a good resume. So along with your cover letter or a portfolio, a well-written resume becomes a deciding factor during the final selection round. It is because they don't have prior professional experience. Surprisingly, professionals also require guidance in writing a good resume. Therefore, here is a comprehensive guide for freshers to curate
Scroll down below to know in detail how to write a good resume?
5 Simple Steps for Freshers to Write a Good Resume
Here 5 easy steps for freshers to curate a great resume for their dreams job interview:-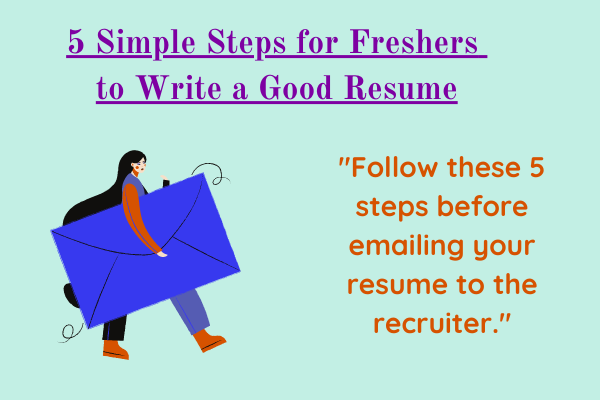 i. Choose a Professional Template According to Your Role
Freshers must take great care of the template while curating their desired resume. You may wonder why? See, the recruiter doesn't have enough time to scroll through an encyclopedic formatted resume. Thus, you need to take care of the resume presentation.
Today, numerous resume templates are available which are curated according to the job roles and one's professional experience.
Now as a fresher, many students struggle in designing a quality CV on their own. Therefore, such templates are regarded as a respite to them because it offers an efficient solution with better representation.
Though many sources offer resume templates. However, does this imply that you should subscribe to any template option which comes your way? No. It is crucial to stick to credible resources only. Take for instance as follows:-
You can subscribe to AMCAT Resume Buddy that offers you wide-ranging options to write a resume. It provides you with two options:-
i. Create Resume
ii. Score Resume
Click Here to explore AMCAT Resume Buddy.
In this way, you will get all-rounded assistance from scratch to the end. Thus, register to professional sources only.
ii. Add Educational Details
So the next step is the education detail section. Herein you will have to add the following details:-
High School score/CGPA, Senior Secondary score/CGPA and College Marks details/CGPA.
Usually, the templates would lay down a well-structured flow of resume already.
iii. Freshers Must Highlight their Internship Projects in The Subsequent Row
The next section is related to the project/internship. It is an integral part of the resume, especially for the freshers. Usually, the recruiters closely assess this part because they get an idea of one's proactiveness beyond college studies.
Adding internship/freelance projects to your resume leaves a lasting impression on them because it shows how you got exposed to the actual working scenario through these opportunities.
iv. Make a Clear Mention of Your Achievements and Extra-Curricular Activities
The extracurricular section is the most critical part of your resume because you don't have any prior experience. Therefore, here is your chance to showcase your abilities and highlight your proficiency throughout the academic years.
v. Add Your Contact Details
Don't forget to enter your contact information which includes: phone number, email ID or LinkedIn ID. So ensure that you give brief and crisp details about yourself.
Don'ts While Writing a Good Resume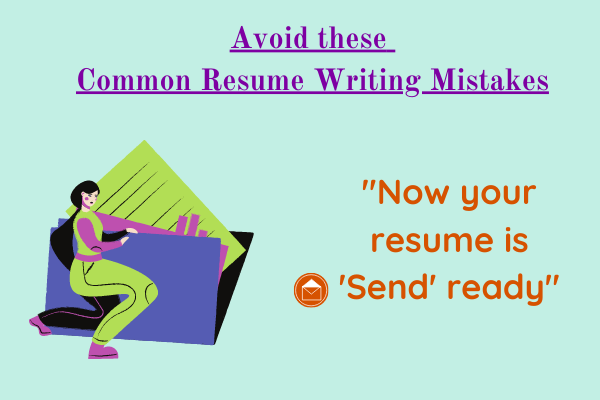 1. Avoid writing a long resume. It should not exceed more than 2 pages.
2. Add brief details while explaining all the sections.
3. Avoid adding contact details like Guardian's name, address details and more. Putting these details only clutters the resume.
4. Don't forget about adding your professional photo on the top left column of your resume.
Kindly note, it is optional. However, a professional photo adds value to your resume.
Conclusion
You see, a good resume is a crucial part of getting a good job. So it should be designed well and presented in such a way that it says more in fewer words. To do see we need 5 easy steps to write a resume. Choosing a Resume writing assistance makes the job 100 times easy. It also offers a wide-ranging template according to the job role. Now that you know how to write a good resume, just start acting.
All the best!
Stay tuned with www.myamcat.com for the latest updates on how to write a good resume?