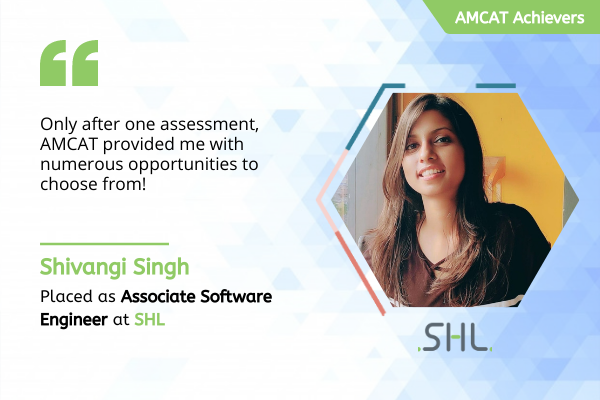 Taking the AMCAT was one of the best career choices I've ever made, particularly in terms of my professional career. The entire process was really smooth and successful, and it enabled me in obtaining a wonderful job to begin my career as a fresher.
Shivangi was passionate about her career choices, and she had complete faith in AMCAT. Are you interested in learning more about her journey? Then continue reading to know more about it.
What made you choose AMCAT?
"I chose AMCAT because this provides scores on the basis of which I could apply for so many opportunities in various fields using a single job portal."
Did you have any issues in your job search? Please provide more details.
"While I was looking for a job, I had to apply for like 50 of companies to get a single revert. It was very difficult, to keep a track of all the fresher openings everywhere" claimed Shivangi
Tell us about the job you got through AMCAT, as well as any additional offers or interview calls you received.
Shivangi told us, "I got placed at SHL with a CTC of 6.70 LPA for the profile of Associate Software Engineer."
In what ways did the AMCAT feedback report assist you in evaluating your performance?
AMCAT feedback report was very helpful for Shivangi.
It helped me to know my weaknesses and work accordingly.
With good AMCAT scores, I developed my technical skills as well.
Good AMCAT scores build self-confidence.
It helped me crack other off campus drives as well. I got placed for four of them.
Would you tell others about AMCAT?
"Yes, I'll for sure recommend AMCAT to others," said Shivangi.
Why would you recommend AMCAT?
"AMCAT gives ample opportunities after giving just a single assessment. It was hard to find a single off-campus placement for software engineer profile. Through AMCAT, not only have I got my desired job profile but also a decent package," concluded Shivangi.
Please do not hesitate to contact us if you have any questions.
We wish you the best of luck!