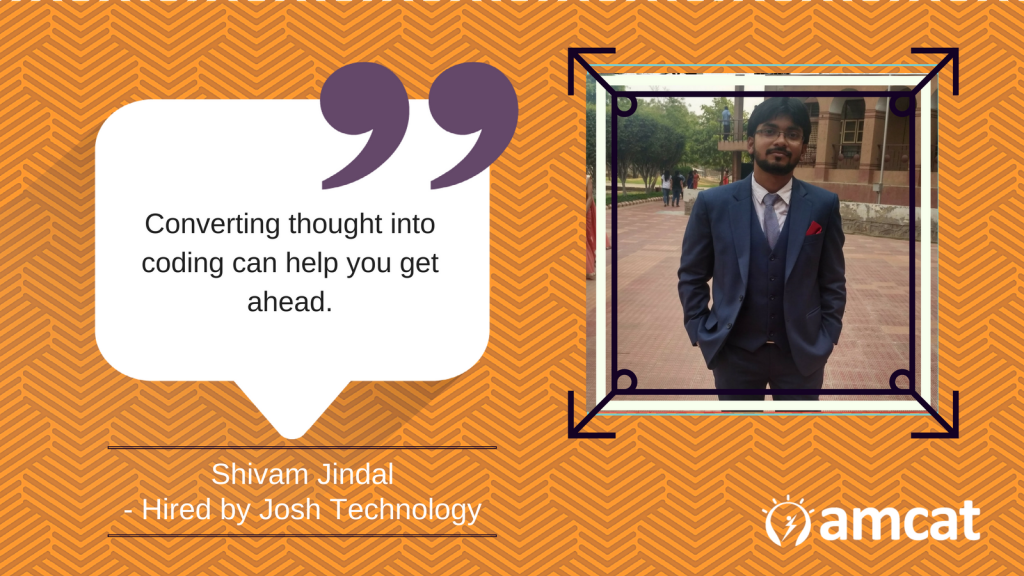 Ever wondered what is that one thing that most companies look for when they approach freshers with jobs after college? Trainability, core domain knowledge and enthusiasm are important, yet it's this one area that sets you apart?
Which one? Problem-solving skills.
And no, again – we aren't saying it! It's another one of those insights which we were able to garner from our student achievers – those who completed their job search journey using the AMCAT test and found appropriate jobs after college with it. Our story of the day is about a man called Shivam Jindal. And his new job in Josh Technology.
Meet Shivam Jindal:
Shivam, a soon-to-be 2017 graduate has a passion for coding and problem-solving skills (his words, not ours :)). He found a home for it during his ongoing B.Tech graduation in Computer Science. He is particularly infatuated with coding in Python and opted for the AMCAT test for quick job opportunities. This is how it went for him.
Giving the AMCAT test:
AMCAT is very good for the candidates who are looking for job. It is not costly and provides many job opportunities.
"I was looking for job opportunities after college. So, I took the AMCAT test in my college with the hope that I will get them", he stated.
So, he prepared, went for it and generally enjoyed the test experience. He pointed out how the test followed a good procedure for determining the true capabilities of students and then matching them with appropriate job opportunities, amid fresher jobs.
And then the interviews began.
Shivam, how many interview calls did you receive? 
"I received 3-4 Interview calls but I found only one suitable – in line with my interests. So, I participated in the hiring process for Josh technology."
And how did you fare through it?
"I am good in competitive programming. There were many interview rounds including one for aptitude and the technical round. I was selected for a job in Josh Technology as a software developer."
Congratulations, Shivam! Any last words which you would like to share with prospective candidates, looking for their own fresher jobs?
"Computer science students should focus on competitive programming. Everyone knows that technology can be learned – you could always upgrade your skills accordingly."
What you can't, he hinted, were problem-solving skills. "Candidates should have problem solving skills and skills of converting thought into coding."
Did we manage to leave you with a clue? A clue on how to ensure that you're actually hired for any of the fresher jobs you choose to apply for? Then go ahead and consider building up on your employability traits, as well as a skill assessment test, like the AMCAT test.