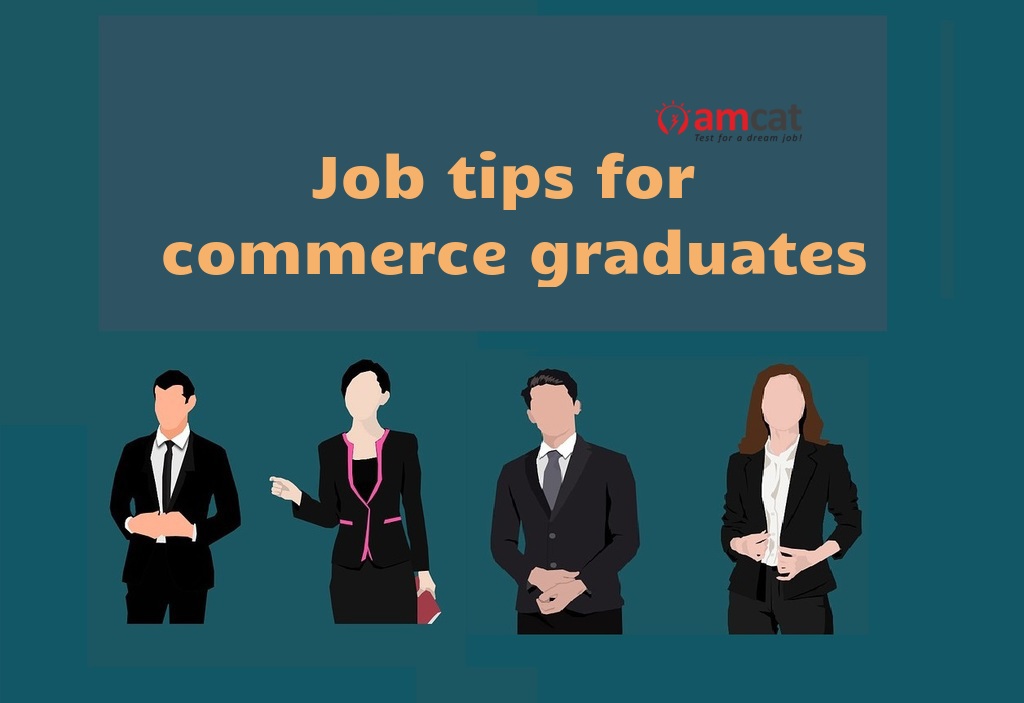 Commerce is one of the most popular choices for graduate education in India. If you are looking for commerce graduate jobs then you are lucky because there are thousands of jobs opening up in the non-tech job sector. Today, India is moving towards a service-oriented economy and commerce students can contribute a lot to it.
AMCAT has been proven to be popular amongst students searching for commerce graduate jobs. Hundreds of companies post their non-tech job requirements on the AMCAT job portal. Here is a guide with job tips for commerce graduates on how to use AMCAT to find jobs –
Zero in on the kind of jobs you want – Commerce specialization traditionally meant that you get into accounting jobs. However, the non-tech job scene has exploded and commerce graduates, today, have multiple choices.
On the AMCAT jobs portal, you can choose from commerce graduate jobs like sales executive, financial analyst, account executive, support specialist, community manager and many more. Choosing the kind of jobs is the first step in utilizing AMCAT for getting jobs.
Choose the correct specialization in AMCAT – The AMCAT test allows you to choose two domain-specific specializations. Being commerce students you can choose from –
Marketing
Financial Accounting
Financial & Banking Services
Human Resources
You have to choose this based on the kind of jobs you want. For example, if you want a financial analyst role then you can take the specializations as 'Financial Accounting' and 'Financial & Banking services'. This way you can show the marks in your resume and prove your skills in these domains.
Repeat for other specializations – The biggest problem commerce students have is the problem of "plenty"! You have the skills to take up any commerce graduate jobs and maybe once you start attending interviews you will realize that you don't want a type of job.
For example, if you are applying for financial analyst but you feel in a few months you are suited for a job in sales then you can retake the AMCAT Exam with other specializations. You can include these new AMCAT marks in the updated resume and start getting calls for sales jobs.
Perform well in compulsory subjects – The AMCAT test has these following compulsory subjects –
– English

– Quantitative Ability

– Logical Ability

– Information Gathering & Synthesis

– Aspiring Minds Personality Inventory (AMPI)
These subjects you have to perform well because your scores are calculated against other students as well. Many commerce graduate jobs require good scores in English, Logical Ability and Information gathering. Once you do these you can start putting down your percentile and showcase how you are better qualified than others.
Create an attractive resume – This is one of the best job tips you can work on as a commerce student. A professional resume will highlight you over other students and ensure you get at least an interview call. You can use a tool like Resume Buddy that also over 25 resume templates including templates for a non-tech job resume. It's an easy task to fill out the sections as it also has keywords and phrases that will increase the shortlisting chances of your resume.
Prepare for the interview – Most commerce graduate jobs involve client interaction or customer facing and requires good communication skills. By doing extensive interview preparation you will multiply your chances for finding a job along with taking the AMCAT for non-tech jobs. Mock AI is a great tool for improving communication skills, body language, and voice modulation.
Follow these job tips while taking your AMCAT test and pretty soon you will find yourself with offers for commerce graduate jobs. You can follow our blog for more advice on improving AMCAT scores and finding your first job through AMCAT.