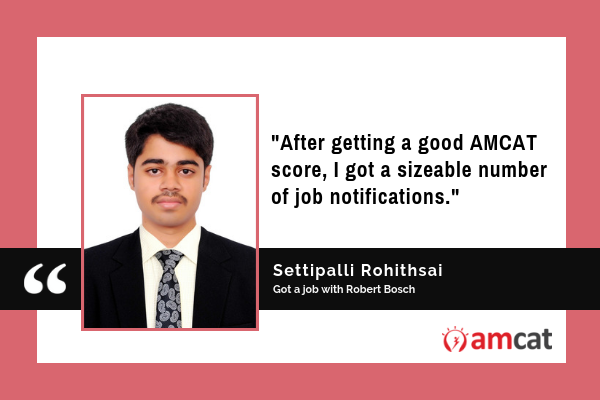 The AMCAT exam with its adaptive methods can be a boon for those seeking great opportunities. A perfect amalgam of job opportunities and a chance to prove your worthiness, AMCAT can give you the much-required exposure to land the job of your dreams.
And, reinforcing the idea of what the AMCAT exam is all about and how it can truly help the candidates, is Settipalli Rohithsai.
Let's see what he has got to say about his journey with AMCAT –
Why did you opt for the AMCAT exam? 
"I opted for AMCAT in order to improve my aptitude skills. I took the AMCAT test in the hope of getting a good job through it as most of the recruiters these days are turning towards AMCAT to complete their recruitment process."
Did you face any difficulties while on the job search?
"Yes", says Rohithsai who had to face a lot of disappointments during the campus placements. He adds that "after attending and getting a good score in the AMCAT exam, I got a number of opportunities and finally succeeded in getting a good job through an off-campus drive."
Tell us about the job you got through AMCAT
"After getting a good AMCAT score, I got a sizeable number of job notifications."
However, Rohithsai was very specific about the kind of job he wanted and neglected most of the offers that came his way until he got one that he liked.
"I finally attended the off-campus drive conducted by Robert Bosch through the AMCAT exam and got selected in it. It was one of my dream companies to work for."
How did the AMCAT feedback report help you?
"The AMCAT feedback report provided after assessing a candidate's performance is a really valuable asset."
"I had strengthened the areas in which my performance was poor as suggested by the AMCAT report. I also came to know about my ranking in the college as well as on a national level and that further encouraged me to improve my knowledge."
Talking about the personality test by AMCAT, Rohithsai says that "it helped me improve my interpersonal skills that are very essential to survive in the society as well as in the corporate world. And the job suggestions helped me in getting an idea to focus on a particular domain."
Would you recommend the AMCAT exam to others? Why?
Rohithsai says that yes, he would love to recommend AMCAT to others. He further states the reason behind it, "I found it to be a good platform to enhance one's aptitude skills and get a number of good job opportunities."
"I will confidently recommend the AMCAT exam to others as I have had a really great experience with it."
Rohithsai has surely made the whole AMCAT family proud with his achievements and you can do the same. You can too have your name plastered on top and tell the world about your achievements by giving the AMCAT exam and bagging the best opportunities through it.