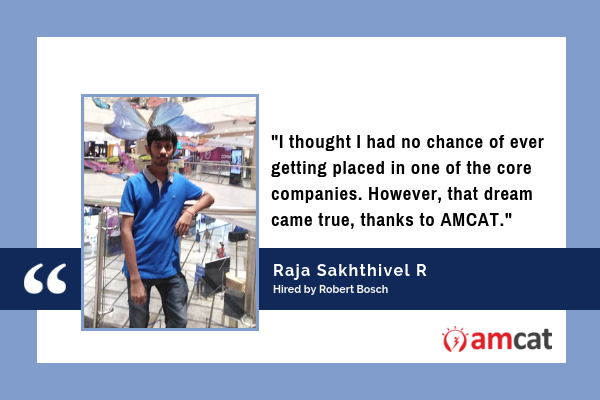 The AMCAT exam is an adaptive test, that is, it adapts itself according to your answers. And, that is exactly what makes it so famous among recruiters. They know they can rely on the AMCAT assessment to select the best candidates. And, Raja Sakhthivel R was able to make full use of this trust that recruiters place on AMCAT and bag his dream job.
Why did you opt for the AMCAT exam?
Raja says that he opted for the AMCAT exam because "I needed a job in one of the core companies and that is why I opted for AMCAT."
He furthers adds how he faced a lot of difficulties during his initial job search. He says, "Scheduling interview date with companies was quite difficult. I was exhausted of taking 'multiple test rounds' for various companies."
It was around this time that AMCAT happened in his life and he says that "AMCAT made my work easy. It helped me save time and work that I was spending on the numerous written tests."
Tell us about the job you got through the AMCAT exam
"I got placed in Robert Bosch through AMCAT. Previously, I got placed in Altran where the work was not related to my core subject. AMCAT helped me get a job in one of the best core companies in the world."
"I thought I had no chance of ever getting placed in one of the core companies. However, that dream came true, thanks to AMCAT."
What about the AMCAT feedback report? Did it help?
Raja says that the AMCAT feedback report helped him zero in on the sections in which he was weak and understand his strengths. This, in turn, made his preparation for further assessment and interview rounds easier.
"It made interview preparations quite easy for me. I spent much time on the areas which AMCAT has defined as weak."
Would you recommend AMCAT to others? Why?
"I would recommend the AMCAT exam to others because it helped me secure a good job in my core company."
"I only had technical HR round and general HR round of interview after giving AMCAT. The AMCAT employees also updated the status of every application until I received an offer."
Raja has a ton of good things to say about the AMCAT exam because it helped him find his dream job. And, much like Raja has managed to make his mark, you can do the same by just scheduling the AMCAT test.
So, wait no more and get set to write your own success story!