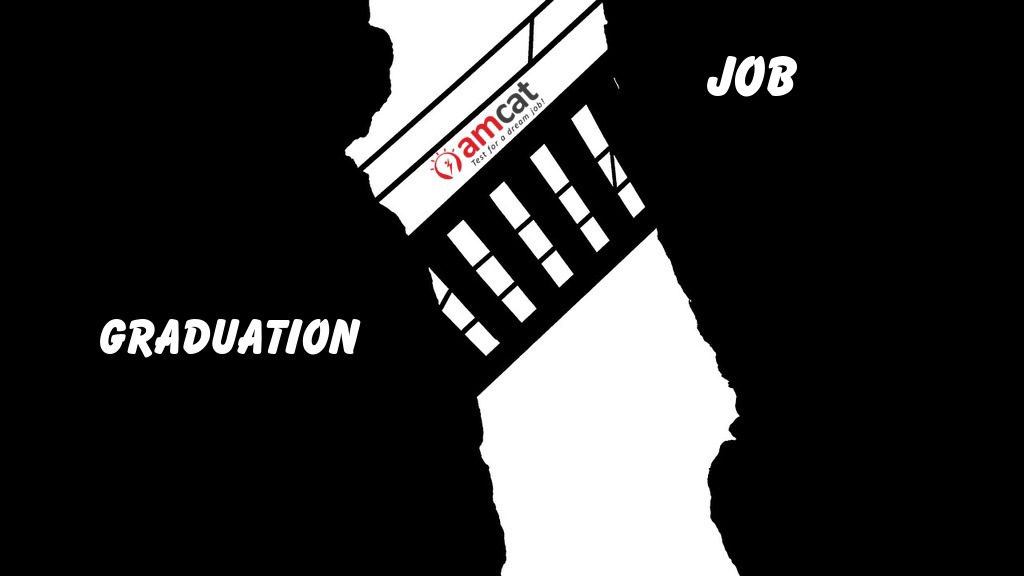 Let's be honest, not every graduate student lands a well-paying job right after college. Some students miss out on opportunities due to health reasons, family issues, career indecisiveness or preparation for competitive exams.
These students take a break which is popularly known as the career gap.
There's a huge stigma attached to the career gap that makes it a dreadful experience for many. According to a popular belief, a career gap in the job resume adversely affects your chances of employment. Also, a career gap sometimes projects you as a laggard and laid back person.
This is why there is such negativity around the concept of career gaps.
However, those who know about amcat exam do not fear to take the leap of faith. You ask why?
Special Offer: Get AMCAT at just Rs.949/-. Use Code BLOG2019 at payment page. Hurry! code valid till 31st March 2019 only. Register Now.
Well, there are ways in which a good score in the amcat exam covers for your career gap. In this blog, we'll unravel certain benefits of amcat exam for those special students with a career gap in their job resume.
Benefits of AMCAT Exam for students with career gaps
For the uninitiated, the AMCAT exam is the largest employability test that evaluates students on the communications, logical reasoning, technical and aptitude skills. The AMCAT exam is an adaptive test which adjusts its difficulty levels depending upon your answers.
A wrong answer implies a simpler next question and vice versa. The amcat score is considered relevant by 1000+ companies during the recruitment process.
A job resume with a decent amcat score is preferred by employers over the others.  With a good amcat score, you can find a job at organizations like Accenture, Amazon, Swiggy, Oracle, etc. Along with the MNCs, at least 1000+ small and medium-sized enterprises are registered with amcat that also hire students with good score. So, if you dream of landing a decent job, the amcat exam is your entry pass.
Now, let us see what are the benefits of amcat exam for gap year students.
Time to prepare
The amcat exam preparation isn't tough, but it isn't a cake walk too. It can get tricky preparing for 4 types of modules. These modules include questions based on like logical reasoning, quantitative aptitude, English language, and an optional subject which you're interested in.
This subject is related to your field of profession. For example Computer Science, Civil Engineering, Marketing, HR, Operations, and many others.
This naturally means you would need ample time to prepare well for such a competitive exam. Hence, this explains the career gap.
Increased employability
Once you score well in the amcat exam you become eligible to apply for the best jobs in the best of companies. You come directly under the radar of organizations looking to hire candidates with a particular set of skills. Also, the amcat score is much more valuable than college scores which makes you even more desirable candidate in the eyes of the employer.
Better job opportunities
The job opportunities dry up rapidly after a career gap. It is natural for companies to hire fresh talent on campus than getting somebody on board who isn't up-to-date with the latest industry trends.
In this case, the amcat exam becomes pivotal for students. Registering for the AMCAT exam allows you to apply for hundreds of jobs, from companies that use the AMCAT score as a short listing mechanism. So, trash all the job search tips you know about and check out AMCAT Jobs Portal where hundreds of jobs are listed every day for freshers and graduates, both.
A career gap isn't the end of your glorious career or a major setback in your professional life. Instead, take this time to relax and work hard towards amcat preparation. You'll definitely end up with a better job on the basis of your amcat exam score than otherwise. Also, amcat score is a great addition to your job resume which makes you more employable even on paper. Go, register for amcat exam today.
Special Offer: Get AMCAT at just Rs.949/-. Use Code BLOG2019 at payment page. Hurry! code valid till 31st March 2019 only. Register Now.