Off-Campus placements is a job selection process which appoints zero involvement of college. This employability process engages a unique methodology of the shortlisting procedure.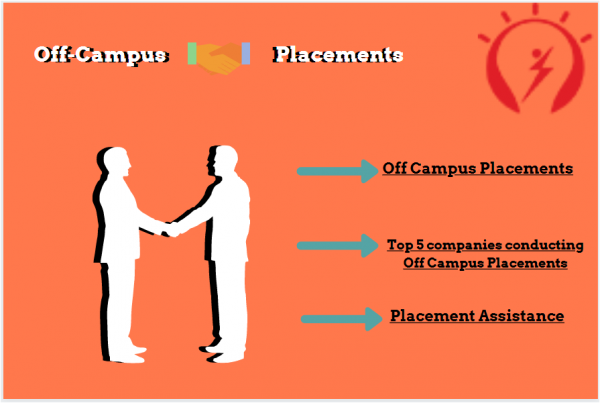 So basically, there are broadly two different ways in which students find the desired job. It is either through On-campus placements or through Off-campus placements. Very often, young graduates dread the idea of the latter. They wonder if a good company or an MNC conducts an off-campus placement drive? Sometimes students fail to get through the process of on-campus placements. 
However, does this imply that it is the termination of everything? Thousands of anxious minds feel the same. However, there are always two sides to a situation. In such situations, students can always go for off-campus options. One must understand that gone are the days when you used to get a job only through college assistance. Now, students can assist themselves in the job search process as well. All they need is the right strategy and proper guidance.
Undeniably, today even the top MNCs conduct off campus drives for various technical and non-technical roles. To our surprise, this practice happens throughout the year.
How can one get a job through off-campus placements?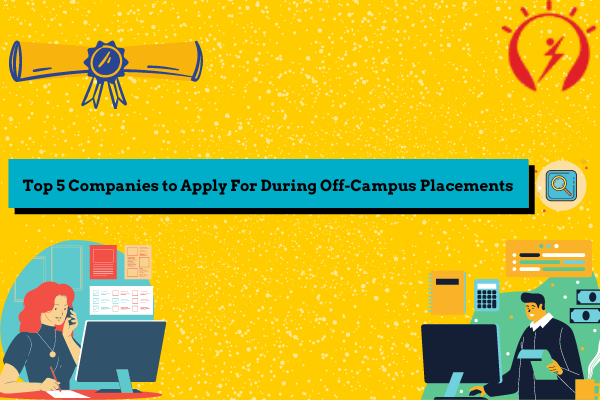 There are multiple ways you can get a job through off-campus placements. As the foremost steps, students must check the process on the company's official website itself. After that, the organization approaches any of the following methodologies to shortlist the candidate:-
i. Companies conduct their personalized assessment for shortlisting purposes.
ii. Organisations also consider employability tests score to evaluate students' competence. For example, more than 700 organizations rely on AMCAT examination score to conduct a smooth selection process. It is because these exams ease out the job search process too. Hence, it makes the selection process easy and reliable at the same time.
iii. Apart from the above two, various organizations conduct walk-in interviews to check one's candidature.
MNC companies usually conduct the recruitment process by employing the first two methods.
Top 5 Companies to Apply During Off-Campus Placements
Here is a list of the top five companies you can apply for during off-campus placements. Check below:-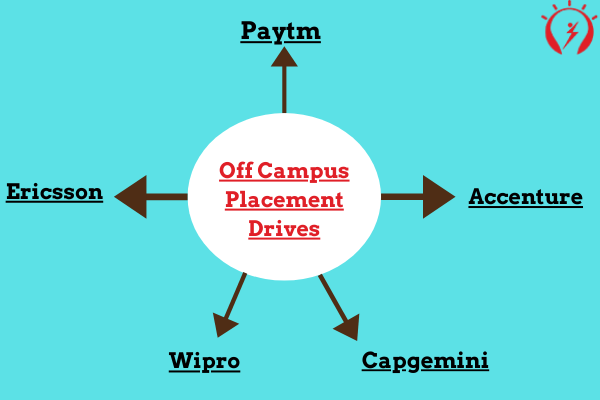 1. Paytm
One must know the background of the company before looking into the job opportunities. So, here is a brief overview of Paytm:-
i. The world is going cashless today. It doesn't imply that we have got bankrupt globally. But it means that we have better means of monetary transactions today. These are done either digitally or through plastic money.
ii. That is why digital platforms like Paytm have remarkably eased money dealing. This organization shares a versatile work culture because of which it offers a great learning experience to the freshers.
About Paytm Off-Campus Drive
i. This fintech company propounds job opportunities in multiple disciplines. Therefore students from different educational backgrounds can apply for the suitable option. Here are a few qualifications details for your reference:-
a. Graduation degree such as BTech, BE, BCom, etcetera.
b. PG degree holders such as ME, MTech, MBA, MCA etcetera can also apply.
ii. Job locations- Chennai, Delhi, Mumbai, Banglore, Noida, etcetera.
iii. Job roles for freshers at Paytm-  Common entry-level job consists of opportunities such as:-
a. Trainee Engineer,
b. Network Engineer,
c. Management Trainee, etcetera.
iv. Experienced professionals can also apply through these off-campus placement drives.
v. Click here to check the official website.
2. Capgemini
Let's have a look at the company's background before discussing the placement opportunities. This company is yet again an excellent opportunity for job seekers. It frequently conducts placement drives whenever required.
Capgemini's work fundamentally revolves around functions such as consulting, technology, outsourcing, and more. Therefore the company renders employability to potential candidates.
About Capgemini Off-Campus Placement Drive
i. Required Educational Qualification- Both undergraduate and postgraduate students can apply to the company. Here is a list of required education degree to apply for various job roles:-
a. BE or BTech,
b. ME or MTech,
c. MBA,
d. MCA, etcetera.
ii. Work Experience- Capgemini offers entry-level as well as experienced level job opportunities. Therefore, you can apply according to your suitability.
iii. Though, the work experience always comes with added advantages. However, freshers can always start out with entry-level jobs. Nonetheless, it always boils down to your skillsets.
iv. Click here to visit the official website.
3. Accenture 
Here is a brief overview of the company:-
i.This American-Irish company is an abode of learning for many graduates in India. The world is progressing at a lightning speed! Thus, with the ballooning competitiveness, comes the need for advanced resolutions.
ii. Accenture offers strategic models to grow business. It caters to various organizations from mid-level to large enterprises. It also helps government agencies to expand.
iii. Accenture undertakes multidisciplinary actions that include consulting, strategy, operations, advanced technology, and digital solutions.
This company deals with various sectors such as media, health, financial services, etcetera. It has served more than 120 countries so far. Therefore, Accenture extends multifarious learning opportunities to young graduates.
About Accenture Off-Campus Placement Drive
i. Accenture is scaling at a rapid rate. Thus, there is a requirement for potential candidates throughout the year.
ii. Hence, the company conducts off-placement drives in various domains according to the need.
iii. Job Locations- the placement drive is generally conducted pan India. Some of the major cities being:-
a. Banglore
b. Gurugram,
c. Mumbai,
d. Pune, etcetera.
iv. Qualification- Graduates holding the following qualifications can apply for Accenture:-
a. BE,
b. BTech,
c. ME,
d. MTech, etcetera
v. Job Categories- The type includes designing, testing, configuration, etcetera.
vi. You can Click Here to view the official website. 

4. Wipro
This company is an Indian MNC. It deals with technology and consulting services. Thus, it is one of the most desirable options for technical minds.
About Wipro Off-Campus Placements Drive
i. This company conducts regular placement drives not only for technical roles but also for non-technical ones.
ii. Educational Qualification- For technical roles, students are supposed to hold a professional qualification either in BTech or BE. On the other hand, for non-technical roles, students from any graduation background can apply.
iii. This company offers an excellent chance to shape your career. For example, the Elite National Talent Hunt is an initiative to provide equal opportunities to potential freshers. The registration is usually opened towards the end of a year.
iv. Click here to check the official website of Wipro.

5. Erricson
This company proffers telecom and networking resolutions. Therefore it provides multiple job options in the technical domain. This doesn't imply that there are no non-technical job opportunities. Undeniably, every organization has a management department that has nothing to do with technical skills. Therefore, don't judge the book by its cover. Now, check the off-campus placements insights below:-
About Erricson Off-Campus Placements Drive
i. Any graduate can apply for the jobs at Erricson. Here is a list of required educational qualification:-
a. Any graduate/post-graduate student is eligible to apply.
b. Qualification required for technical jobs can be any of these:-BE, BTech, BCA, etcetera.
Students with a master's degree can also apply for such roles. PG courses include MCA, MTech, and ME degree.
ii. The placement drive for Wipro is conducted pan India.
iii.  Job profile- Trainee engineer, Entry-level engineer, Network engineer, etcetera.
iv. Offical website of Erricson- Click Here
Off-Campus Placement Assistance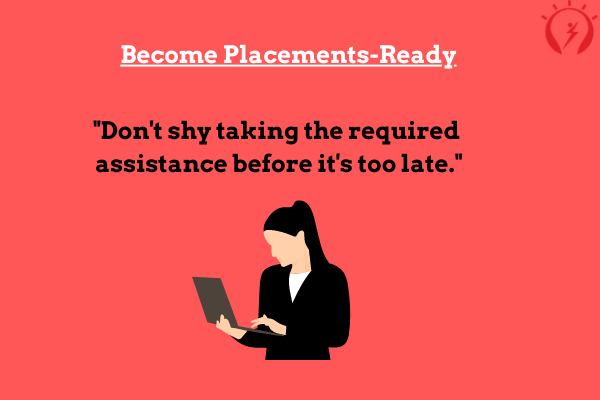 Is off-campus placement difficult to find? Especially for a fresher? Many students get muddled around these questions. The situation is not limited to fresh pass-outs but it equally applies to experienced candidates. People can be at a different phase of life. They may be stuck because they didn't get the right opportunity during an on-campus placement. Someone might need an immediate job-switch because of personal shortcomings. There can be many reasons. Also, not every time, someone would wait for campus placements to grab the desired opportunity. So it is always better to keep eyeing the desired job opening.
Also, after the unexpected coronavirus pandemic, the work scenario was affected drastically. Lakhs of youngsters lost their jobs. However, it is time to pave the path instead of dreading uncertainties. AMCAT test has successfully bridged the gap between topmost organizations and potential talents.
With the AMCAT employability test, you can apply for the desired job whenever required. All you need to have is the right skillset and good AMCAT score to reach the end goal. 
While gearing up for that crucial interview, many students stumble upon minor details. Therefore, they must rely on a trusted source to practice well. AMCAT Mock AI brings real-life simulation of the interview round. This tool evaluates your body langue and response intricately. After proper processing of the details, it rates you accordingly. In this way, Mock-AI demarcates the areas of improvement. Thereby helping you identify your strengths and weaknesses.
Let no limitation stop you. So what if your dream company didn't visit you, you visit them through off-campus placements.
All the best!