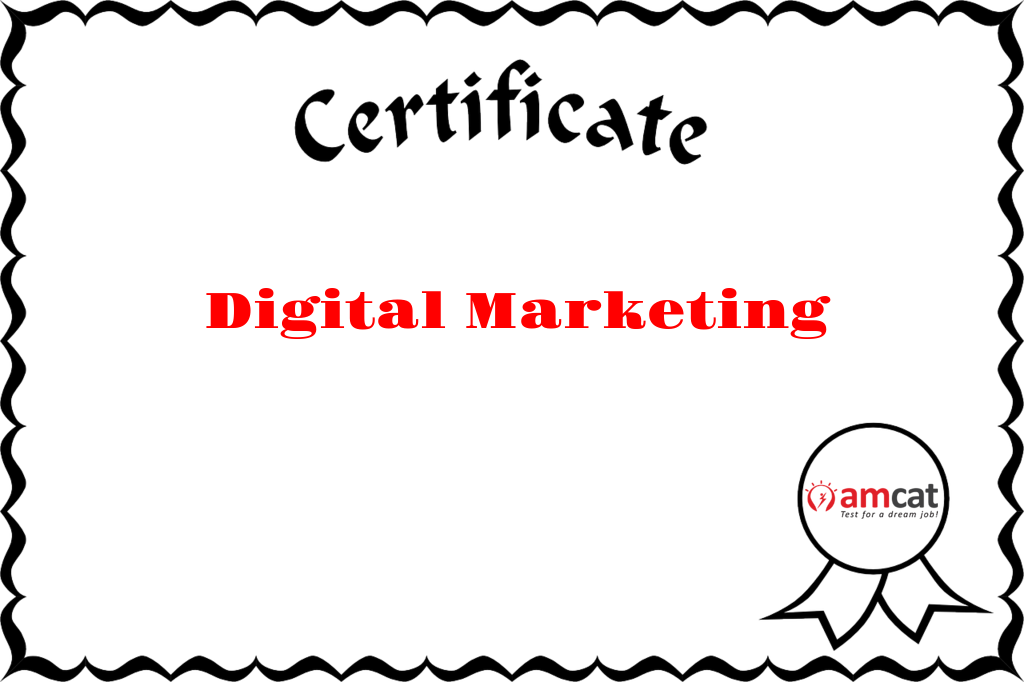 "I have 10k followers on Instagram and 25k followers on Tik Tok."
If you are one of these savvy digital millennials who think that an active social media profile and engagement is enough to land you a job in digital marketing, then you are highly mistaken.
Digital Marketing jobs require the experience of handling business accounts and are an extension of traditional marketing. You need a basic understanding of marketing plus excellent job skills which will help you perform well in the job.
The best way to let indicate your expertise to recruiters is to get skill certifications. Here are the common and industry-recognized skill certifications for digital marketing jobs –
AMCAT SEO Specialist – This is one of the most comprehensive skill certifications as it assesses your ability to become an SEO specialist. SEO or Search Engine Optimisation is the base of all digital marketing and an important skill to master. You will get a certificate on performing well, plus you get a score and a feedback report on your skill level. You can publish this certificate on LinkedIn or Resume. Additionally, you can find digital marketing jobs on the AMCAT Job portal.
Google Ads Certification – Google is the core of the internet and every digital marketing budget includes substantial spending on Google Ads across its platforms. Yes, using Google Ads is pretty simple, and anyone can do it, but not everyone can do it efficiently! With the Google Ads Certification, you will become aware of all the features of Google Ads platform and how to use it well. You will become eligible for a lot of digital marketing jobs with this certification.
HubSpot Content Marketing Certification– Today, every digital ad needs content; be it in the form of audio, video or text. The key is to create great content and market it properly so that your products sell! HubSpot is a popular website that offers a content marketing certification that will help you understand how content is created, promoted and measured. You can apply to content digital marketing jobs once you have completed this certification.
Facebook Blueprint Certification – Apart from Google, Facebook is the biggest online advertiser and the second chunk of the digital marketing budget is spent here. Facebook has a host of certification exams including Advertising Core Competencies, Buying Professional and, Planning Professional exams. Once you get these certificates, you can apply to digital marketing jobs where you will be in charge of leading all of the marketing on Facebook and its platforms like Instagram.
YouTube Certification – This is a niche or a specialized program that is an exciting opportunity for students who wish to work with the YouTube platform. With this certification, you will learn how to grow channels and monetize them. You can get digital marketing jobs with companies that are focused on videos like production companies, movie companies, advertising agencies or even major FMCGs who have their own YouTube channels.
Bing Certification – A majority of Indians haven't even heard of Bing. It is another search engine platform, like Google, provided by Microsoft. While less than 9% internet users in India use Bing, about 33% of USA users, 26% of UK users, 17% of Canada users and almost 15% of Rest of Europe uses Bing. As such it is a crucial platform if your company is targeting international users or customers. Having a Bing Certification will help you gain an edge over other candidates for such digital marketing jobs.
Hootsuite Social Marketing Certification – Hootsuite is a popular social media management platform and is used by companies worldwide. It helps companies to manage all their social media profiles from one software and streamline and analyze their efforts. As such it is an industry-recognized platform, and this social marketing certification will help you get digital marketing jobs in companies which use Hootsuite.
These were our top choices of skill certifications for getting digital marketing jobs. Along with AMCAT SEO Specialist, you can also sign up for AMCAT Exam and get other job skills assessed like communication skills, logical skills, etc. The combination of your employment skills with digital marketing skills will give you an advantage over all the other job candidates.