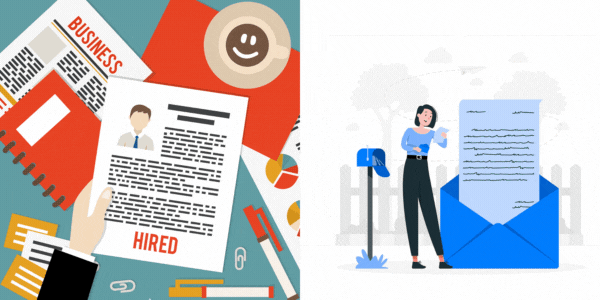 Have you recently received an offer for a new job and have chosen to accept it? How do you go about formally accepting the job offer? It's always a good idea to accept a job offer in writing by sending it to or giving it to your new employer. Before saying "yes," be sure the offer includes all you expected and ask any questions if you have any.
You can describe the specifics of the position in a job acceptance letter so that, before starting, you are certain of your position within the organization. Writing to your new boss to formally accept the position and possibly return any required signed documents is the most professional course of action.
Here is a step-by-step guide explaining why you should write a job acceptance letter, what to include in it, and how to go about it. Your acceptance letter will be successful if you use our assistance!
To assist you in creating the ideal job acceptance email, we have offered sample job acceptance letters in this article.
Before You Accept the Offer
You are not required to accept the offer right away after receiving it. Even if you think you would like to accept right away, then even it's appropriate to ask for more time.
Here we have a tip for you: "Request the offer in writing so you can confirm your expectations and the employer's offer once you've had time to evaluate it and are prepared to accept."
How to Accept a Job Offer?
Writing down the specifics of a job offer is the best method to accept it. It's crucial to confirm the terms of employment and the day you'll begin your new job, even if you verbally accepted the position.
You can show professionalism and ensure that there is no misunderstanding on the specific terms of the offer, such as pay, vacation time, or benefits, by sending a job acceptance letter. You can also use the chance to show your gratitude for the job offer and your excitement about taking on the new responsibilities.
Register for AMCAT | India's Leading Fresher's Assessment And Job Site (myamcat.com)
What to Include in a Job Offer Acceptance Letter?
Follow the suggestions to write a letter or an email confirming your acceptance of the offer when you are prepared to answer positively. Your letter can be brief as long as it contains the essential information.
There are a few things you would want to mention before you even begin writing the letter when it comes to composing it. The letter should be thorough and easy to understand for both you and the employer.
Let's explore a few key aspects of a job acceptance letter to ensure complete transparency:
Appreciation
Since you have already studied the job offer and plan to accept it, there should nothing else to be felt at this time but gratitude and appreciation for the chance.
Formal acceptance
Once you've expressed gratitude to your new employer for giving you this chance, it's time to officially accept the position.
Rules and regulations
Declare your accepted salary, position, and any applicable perks in writing on your behalf to prevent any misunderstandings in the future.
Be clear about your start date
Be careful to include the start date in your acceptance letter because you might not be the only one whose confirmation they have received. It would be good enough to say something like, "I look forward to start working with you on July 1, 20XX."
Sample of Letter & Email Accepting a Job Offer
We have attached some sample templates for you if you're still unclear about where to begin. If this is your first job, it's a good idea to prepare a copy and have someone edit it before you send it.
Letter Example
Name
Job Title
Organization
Street
City, Country, Pin code
Date
Dear Ms/Mr. Last Name
I'm pleased to take the position of (position name) at (company name), as we discussed over the phone. Thank you again for the opportunity. I'm excited to collaborate with everyone in the team and to do something beneficial to the organization.
I'm excited to start working on (enter start date). Please let me know if you require any further documentation or information prior to that time.
I want to thank you once again.
Yours sincerely,
(Your Name)
Email Example
Subject Line: (Title of Position) – Job Offer
Dear Ms/Mr. Last Name,
Thank you for offering me the (position name) with (company name). I am excited to accept the job and look forward to becoming a valuable member of your team.
I look forward to start working on the (enter date) at (enter time). I shall complete all employee requirements and concerns if there are any, please free to reach out to me.
Thank you again for this opportunity. I am eager to get started and contribute to your company's growth.
Kind regards,
Name
Contact Details
The only thing left to do is to celebrate before writing your resignation letter, which is your next big writing task.