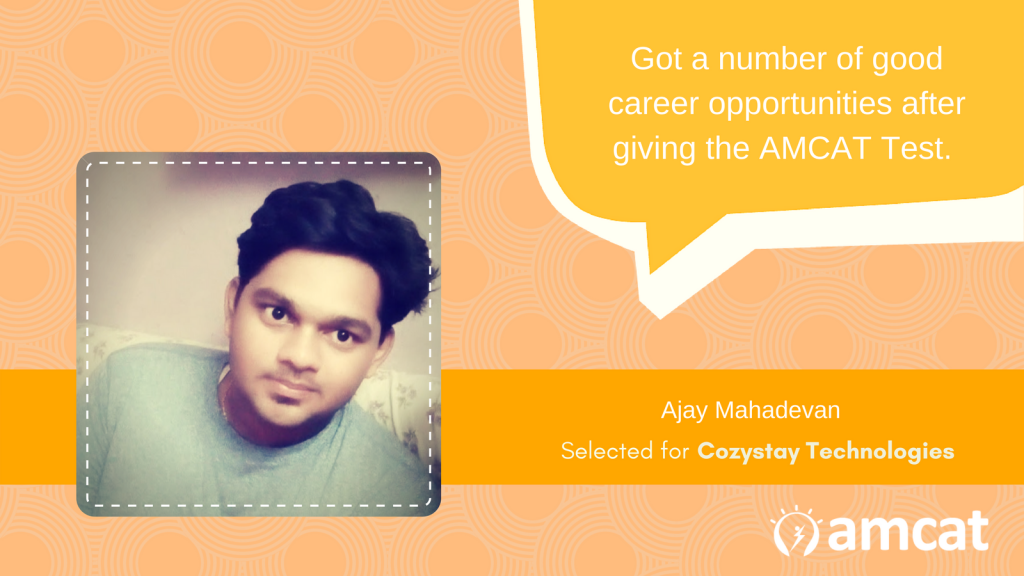 Often, we are asked by prospective AMCAT test takers and candidates who have taken it, when would they receive the first set of interview calls for the promised, matched jobs. Our answer varies. Based on the set of AMCAT success stories we have received till now, it can be anywhere from three weeks to three months. Till now.
In this blog, we meet Ajay Mahadevan, a 2018 B.Tech graduate from the Dhanalakshmi College of Engineering. And how he got a call as early as ten days after giving the AMCAT exam.
Taking the AMCAT Test:
Mahadevan, a computer science engineer, was looking for IT/ITES related jobs after his graduation. He had initially heard of the AMCAT Test, when he was exploring career possibilities around campus. He said, "I took the AMCAT because I heard the buzz that in our college, that it's one of the best to get fresher job opportunities."
How did you prepare for it?
Ajay prepared for his aptitude test by studying up on model question papers and practising different sets of aptitude questions.
"Please do read all the amcat questions available on the internet and focus on solving aptitude questions along with your major subject", he advises.
And it helped. He received his first job interview call within just 10 days.
The job Interview process:
Next, we asked him about his selection for Cozystay Technologies. Particularly, how he fared at the job interview.
"The interview process at the company was a nice experience for me. Overall, it was quite good – all went clean with no lag in the process."
In the end, we asked him whether he would recommend the AMCAT Test to others. This is what he said, "Yes, I would surely recommend AMCAT to others because my own experience of AMCAT was good and the career opportunities provided by the AMCAT were quite high and of good."
Congratulations Ajay Mahadevan for making your way through in the job selection for Cozystay Technologies. We hope your story lends a hand to those preparing for the AMCAT or thinking about giving the skill assessment.