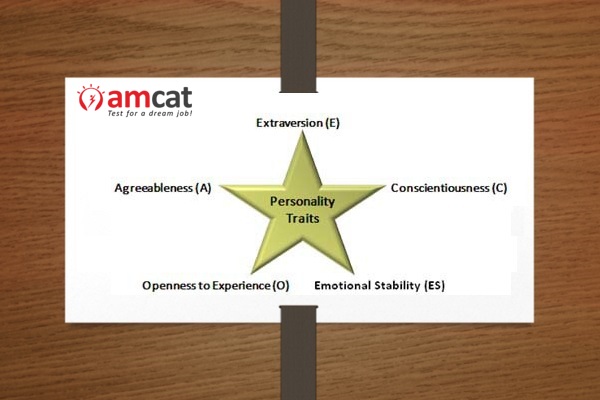 With the increasing competition in the job industry, it takes more than a fancy degree and a few academic accolades to get a job at the top companies. However, you do immediately become 'more employable' if you add a good amcat exam score to the mix.
The amcat exam assesses your skills, knowledge, aptitude and, personality to match your scores with the right job provider. But without the right kind of personality, you can't really make it big in your career. Hence, most organizations today look for candidates who are street-smart with a charismatic personality.
This is why AMPI – the amcat personality test – which is a compulsory module in the amcat exam, is becoming increasingly popular amongst students and organizations.
In a nutshell, the amcat personality test gives the hiring managers an insight into a candidate's personality to help better understand their productivity, performance & trainability once hired.
Special Offer: Get AMCAT at just Rs.949/-. Use Code BLOG2019 at payment page. Hurry! code valid till 31st March 2019 only. Register Now.
The amcat personality test is becoming a 'must-do' on every employer's list. So, if you're about to begin your professional journey, you might as well check your job readiness by taking the amcat exam which will determine if your personality is suitable for your choice of job field.
Let us tell you briefly about the amcat personality test.
AMCAT Personality Test – a brief account
In the AMPI, your choice of answer for each question provides an analysis of your personality. It provides insights into your behavioral aspects.
It is India's most deployed personality assessment tool which is why over a quarter million candidates have been evaluated on AMPI for various job roles across different sectors.
It is also useful as it helps employers to predict your success in roles spanning from sales, customer service, relationship management, collections, technical support, managerial roles, leadership, etc.
The amcat personality test works effectively in evaluating entry-level candidate's personality which ensures an effective recruitment process. This module of the amcat exam determines how your behavior can impact your job in your choice of industry.
The amcat personality test is based on the contemporary five-factor model of personality also commonly known as the "Big Five" model. It measures five broad traits:
Extraversion
Conscientiousness
Emotional Stability
Openness to Experience
and Agreeableness
Till date, it is the most scientifically advanced and validated model of personality. The five factors being –
Extroversion (E): An extroverted, talkative, socially confident person
Openness To experience (O): A broad-minded, unconventional, imaginative person with rich artistic sensitivity
Emotional Stability (ES): A calm, happy, undisturbed and confident person
Conscientiousness (C): An organized, responsible, hardworking and achievement-oriented person
Agreeableness (A): A kind, sympathetic, cooperative and warm person
In this module of the amcat exam, you are presented with two statements, both equally desirable socially where you have to make a choice between the two. This helps recruiters better understand which situation has your true inclinations.
Such questions help predict your traits of the personality. Since you cannot make yourself look good on both the statements, the faking tendency is reduced. During the evaluation, your trait scores are classified as LOW, MEDIUM or HIGH where LOW or HIGH may not be equated to BAD or GOOD, as there are no bad or good personalities.
For each trait, a Z-score is provided which measures the number of standard deviations the score is away from the mean of the norm. A Z-score which is more than +0.44 means the candidate is in the top 33%, whereas a Z-score of less than -0.44 indicates the candidate is in the lowest 33%.
Finally, based on the personality test score, your personality type is determined.
How to succeed in AMPI test?
The only way to success is preparation. Without good amcat preparation, you can never become employable for a desirable amcat job.
So, if you believe in the amcat exam system and AMPI test module, you should put your heart and soul in preparing for it.
In order to give in your 100% in amcat preparation, consider using PrepAMCAT – A simulation of the real amcat exam. This tool provides an actual adaptive amcat exam with duration of 3-hour at the comfort of your home. You can take the PrepAMCAT exam a few days before the real amcat exam to check your readiness for the big day. The results are evaluated in 2-hours. These results help analyze your strengths and weaknesses.
So, the conclusion is, if you're looking for that right amcat job, you should first do the amcat personality test for it. Check whether your true personality aligns with the job role in question by taking the amcat exam. Good luck!
Special Offer: Get AMCAT at just Rs.949/-. Use Code BLOG2019 at payment page. Hurry! code valid till 31st March 2019 only. Register Now.