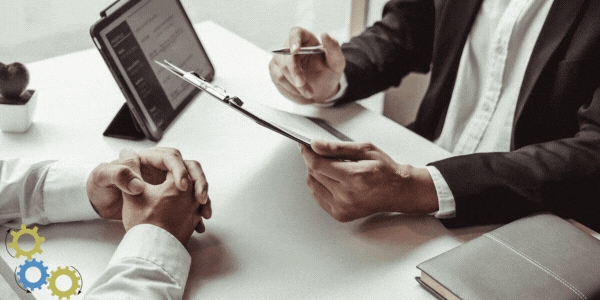 Interviews are the gateway to get a good job. In layman's language, an interview is conducted by a hiring organization to select a suitable candidate for the desired job position. It is not only the job candidate who invests a lot of time in the interview process to prepare for it, but the hiring manager and human resource professional also invest tons of time and expense to conduct interviews. Selecting a wrong candidate can hamper work objectives and revenue and correspondingly it is important to properly plan and structure the interview process.
What exactly is the Interview Process?
An interview is a process to match the job description with interviewee's skills. To make the right selection, the hiring manager should draw the appropriate job description which does not miss any desired detail. By eliminating individuals who don't envision themselves in the job, a detailed and accurate description may help recruiters and potential applicants save time. Questions to be asked and the parameters to judge a candidate should be identified by all levels of interviewers. An interview checklist can be prepared to jot down all the questions to be asked to the interviewee, the company and role details to be explained to the candidate, and the identified criteria to select the candidate.
Register for AMCAT | India's Leading Fresher's Assessment And Job Site (myamcat.com)
Steps of the Interview Process
The interview Process first starts with the organization identifying the work demand which is then communicated by the hiring manager to the human resource professional. HR opens up the vacancy on portals and starts inviting applications for hiring new employees.
Candidate selection is made not just on education and work experiences but also on the basis of communications skills, computer proficiency, and how good a team player candidate is.
Job candidates go through a lot of stages of examination and inquiry before they are selected. The exact steps in the interview process vary from company to company and from role to role. The most common steps during the hiring process are highlighted below:
Shortlisting a candidate on the basis of a resume is the first step. Resumes should capture education history, work experience, contact information, hobbies, skills, and declaration. Resumes should be free from grammatical errors and should contain keywords from the job description.
First round of interviews of the selected resumes is generally conducted by the Talent procurement team. A call is scheduled with the potential employee to obtain more information on the resume. This round of screening is usually of short duration approximately from 10 mins to 30 mins and the pool of candidates who will be invited for in-person interviews is frequently whittled down through this interview. An interview call with the talent team is also a good time for the candidate to ask confirmation questions relating to work location, company culture, team structure, and expected compensation.
Companies use written tests to filter the candidates who would move further for the hiring manager interview round. A written aptitude test verifies a candidate's skill for a particular role. The written examinations are often designed such that applicants have less than a minute to respond to each question and the test is divided into different sections like a quantitative test, a verbal section, and numerical and logical reasoning. The tests are graded which helps the recruiter compare different candidates. Tests can be carried out online or physically at the workplace. To succeed at the test, candidates should practice aptitude questions, manage test time properly, and should carefully read the instructions and questions before answering.
Hiring manager interviews the shortlisted candidates after talent team interviews. This is a technical interview where in-depth questions regarding the applicant's qualifications, employment background, availability, expectations, and career goals are asked by potential employers. Interviews in this round with potential employers last for approximately 30 mins to 90 minutes. During the technical interview, there can be more than one interviewer simultaneously asking questions and examining the candidate's body language. Apart from work-related technical questions, behavioral and situational questions can be designed to prospect how a candidate will fare in real-life tough work scenarios. Candidates should be well prepared for tough interview questions should maintain apt body language and appear confident throughout the process.
There can be multiple rounds of technical interviews with different or the same hiring managers. Apart from interviews, another method of examining candidates is group discussion. A group discussion primarily tests candidate leadership, teamwork, and communication competencies wherein multiple candidates are given a common topic to present. In order to clear the GD round, candidates should be well-versed with current trending topics that might be asked in GD. Candidates should also do mock GD and practice time management to excel in the round. It is also imperative for candidates while sitting in the GD to understand the topic really well and to carefully listen to others speaking.
After completing all the interviews, assessments, and group discussion round, the final decision on candidate selection is communicated by human resource team members. Feedback on candidates may be provided and candidates can also proactively ask how they fared during the process. If selected, a background check is mostly mandatory in companies wherein education, employment, criminal, and existence checks are performed before the date of joining. The potential employee should cooperate in full so that the background check is timely completed.
Register for AMCAT | India's Leading Fresher's Assessment And Job Site (myamcat.com)
What to do if you want to leave the interview process politely?
During the job interview process, there may come a situation when either a potential employee or employer has to withdraw from the process. Reasons can be numerous, for example, a potential employee got a better offer from another company, or an employee is retained by an existing company. Similarly, a process can be withdrawn by a potential employer if it is realized during the mid-process that the candidate is not appropriate for the position. In both the scenarios with potential employees and employers, timely communication should be made thanking the other person for participation. The reason for withdrawal should be added in the communication.
AMCAT has a tool for interview preparation named Mock-AI which uses AI-ML technology. It offers you thorough practise sessions before you go to your dream job interview. Students receive a comprehensive report from Artificial Intelligence and Machine Learning solutions following a thorough study.
You can take a test for a job interview and provide real-time answers in a supportive setting with the help of Mock-AI. After finishing the test, you will receive a thorough report outlining how you did, where you made mistakes, and what you can do to improve for next interviews.
FAQs:
Q1. What are the interview rules?
Ans. Interview rules for a candidate are: – prepare for interview questions effectively, appear for the interview on time, listen to interview questions carefully and answer them confidently, and lastly ask questions to the interviewer and follow up post-interview.
Q2. What are the steps in conducting an interview?
Ans. The interview process usually starts with the first round of interview with a Human Resource professional. The candidate who clears moves to the technical round(s) of interview with the hiring manager(s). The selected candidate is rolled out the offer letter and if acceptance is obtained, a background check is performed, and preparations are made to onboard the candidate.
Q3. What should we do during the interview?
Ans. When you are sitting in an interview, appear confident and remember to make eye contact while responding. Listen to all the questions carefully and be transparent in your answers. Also remember to always ask questions towards the end which shows that the interview candidate is interested in the offered position.