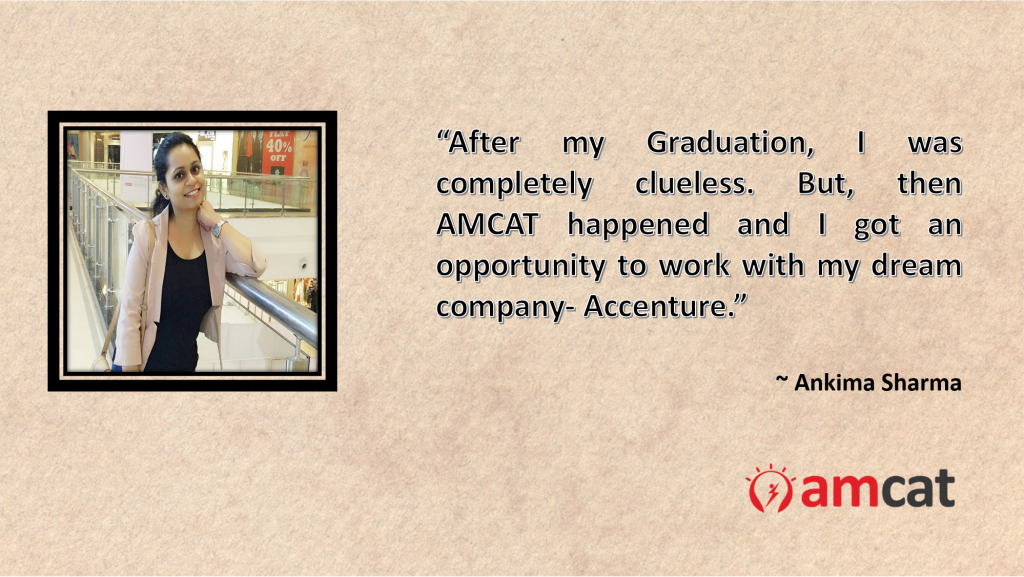 Isn't it tough to get a fresher job in a good company with the right job profile at the beginning of your career?
Meet Ankima Sharma, a fresher from Krishna Engineering College and know how she managed to kick-start her career in the IT industry and nab an opening with Accenture.
Q: Tell us something about yourself and your career goals.
Hi, My name is Ankima Sharma and I am basically from a small town of UP and I want to be a successful software engineer. My dream is to work in a well known IT company and set a name for myself.
Q: What difficulties did you face while searching for a job and how did you overcome those difficulties?
First of all my college didn't support much in terms of campus placements. So after graduating from college, I was completely clueless. It is difficult to trust every employability tests and job portal site. I took AMCAT exam in the final year of engineering and thankfully started getting many interview calls as I passed it with good scores. I was just looking for the right opportunity to kickstart my career.
Q: How long did it take to get your 1st interview call after AMCAT?
I was getting offers from companies after 2-3 months of taking the exam but I was waiting for the one that was right for me in every aspect. Luckily, within 4 months I got a call from Accenture.

Q: Tell us about your experience post giving the AMCAT test and how AMCAT helped you in getting the job at Accenture?
AMCAT bridges the gap between the jobseeker and recruiter by taking an assessment which every company considers in their first round of interview. So if you are qualified from AMCAT you have already crossed the first level of difficulty. Same happened with me when I appeared for Accenture.
Q: How many interview calls did you get after taking the AMCAT?

More than 5-6 calls.
Q: Would you suggest other job seekers to take AMCAT? If yes, why.
Sure, I will suggest. Because as a fresher it's not easy to get a job in this market. Many companies rely on employability tests like AMCAT for hiring fresh graduates. So this will give you an option of several opportunities.
Q: Would you like to share some tips which can help other job seekers in getting a good job?
First of all clear AMCAT with good scores. The AMCAT syllabus contains everything that you need to know for any placement exams. Be confident about yourself. Have a good hold on your technical subjects. All the best.
Want to kickstart your career in a right way? Take AMCAT and get a step closer to your dream job!