Telesales executives sell products and services for their company over the phone. They also manage client accounts and maintain relationships, all through taking and making phone calls. Telesales can be classified as:
Inbound Telesales: Takes place when a potential customer/client calls the company inquiring about their products/services.
Inbound telesales is designed to cater to customer responses to the company's promotional/ advertising campaigns. Technical support executives also fall under this category if they do cross-sell.
Outbound Telesales: takes place when a telesales executive proactively initiates a call to a prospective customer. These calls can be for existing customers for cross-selling / up-selling new product/service offerings or for new customer acquisition.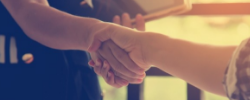 Telesales executives can be hired for both B2C (Business to Consumer) or B2B (Business to Business) selling. Depending on the company's offering, target audience and geography, the skills and attributes required for the Telesales job would differ. For example, a company with mostly B2B international clients would need the candidate to be fluent in English, while for another company with B2C client or regional customers, knowledge of the local language would be more important than English.
The Job Role and Responsibilities
A telesales executive is generally a part of the company's sales team and his/her primary job is to sell. Telesales executives have set targets and strategies by their team supervisor. They would mostly be calling a prospective client and persuading them to either purchase/trial a product/service, or accept a visit from another sales team member. Telesales executives must have a clear understanding of the product/service they are selling and should be able to negotiate well.
Competencies and Skills Required

A telesales executive is required to interact with customers for the most part of his/her day and so good communication skills are a must. He/she must be able to plan the number of fresh/follow-up calls he/she has to do in order to meet targets. The job also requires good selling and persuading skills and also a thorough understanding of the company's offerings. The major skills and competencies that employers look for are:
Good spoken and written language skills.
Ability to plan and execute.
Ability to persuade and negotiate.
Ability to work under stress.
Ability to work as a team.
Assessment for the 'Right' Telesales Executive
Telesales Executive Profile
AMCAT Mapping
Communication Skills
SVAR (Spoken English): High
Agreeableness: Mid to High
Good Sales and Negotiation Skills
SVAR (Spoken English): High
Extraversion: Mid
Emotional Stability: Mid
Ability to plan and execute
Conscientiousness: Mid to High
Ability to work under stress
Emotional Stability: Mid to High
Team Work & Co-ordination
Agreeableness: Mid to High
Emotional Stability: Mid
Assessments Correlation to Performance
Globally, standardized assessments have been used for hiring Telesales Executives. The scores of these assessments have shown high 'validity' in predicting the success of the candidate as a Telesales Executive. The objective criteria consist of assessments in spoken English, cognitive skills and personality inventory. Our research shows that spoken English combined with Emotional Stability and Conscientiousness shows the strongest correlation to the success of a Telesales Executive at the entry-level. This is also backed by previous researches by Sawyerr, Srinivas and Wang1 and Grebber, Semmer et al2. According to a study carried out by Aspiring Minds- now SHL, at a large call centre, a standardized test can explain 28% of the total variance in the overall job success of telesales executives. Simply stating, appointing the top half of individuals as identified through these assessments results in 72% of them falling in the top half of performers on the job. Thus a company can improve its organizational efficiency upto a great level by using standardized assessment during selection and recruitment of telesales executives.
---
Olukemi O. Sawyerr, Shanthi Srinivas, Sijun Wang, (2009) "Call center employee personality factors and service performance", Journal of Services Marketing, Vol. 23 Iss: 5, pp.301 – 317.
Simone Grebner, Norbert Semmer, Luca Lo Faso, Stephan Gut, Wolfgang Kälin & Achim Elfering, (2003) "Working conditions, well-being, and job-related attitudes among call centre agents", European Journal of Work and Organizational Psychology, Volume 12, Issue 4.