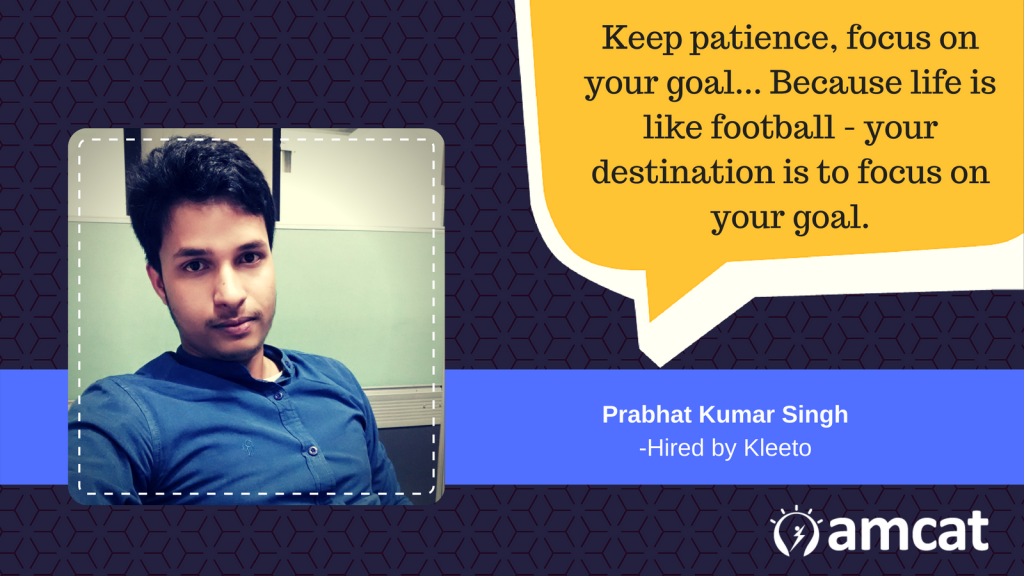 We are often asked how the AMCAT Test is important for students from different streams. For those looking for IT jobs, 2016 graduates, experienced candidates or even those who are giving their final exams, ready to turn into graduates. One such query has been whether the test helps those beyond engineering.
Here is an example where it did, though the job role in question is still for a programmer. This is what happened with Prabhat Kumar Singh, a 2016 graduate when he gave the AMCAT test.
Meet Prabhat Kumar Singh
After completing his post-graduation in Computer Applications from JSS Academy of Technical Education in Noida, Prabhat was looking for a job. A good one, with a decent pay package. And he had problems in landing one.
"I faced a lot of difficulties, due to the cut-throat competition out there."
And then, he took the AMCAT test.
Going through the AMCAT Test
"I took the AMCAT test because it is a platform where we can grab the right opportunity." Calling it a good experience, he went through it with decent preparation and sat down to wait for the interview calls to come.
He had to wait for a month.
After a smooth interview process with Kleeto, a data management solutions startup, he sailed through to the main offer and was hired for the job.
Would he recommend the AMCAT test to others? He said, "Yes, of course. Because after taking AMCAT, you don't need to search job from other portals as AMCAT gives you lot of job opportunities with good package."
Career Tips To Consider
Having been through a strenuous session looking for jobs, to finding one opportunity, Prabhat has had a chance to go through the entire job search cycle. We asked him if he had any observations about the entire experience. He had.
"Keep patience, focus on your goal. Because Life is like a football where everyone wants to kick you – but your destination is to focus on your goal."
Did you like this one of our AMCAT success stories? You can read up on more of these stories in our testimonials section. And if you are considering giving the test yourself, you can schedule one for yourself now.