Job search becomes a hectic affair for young graduates because finding the right one and getting selected for it requires not just hard work but vigilance to strike it right.
AMCAT employability test, therefore, brings the assessment indicators, work opportunities, feedback reports, improvement chance, etcetera to support one's job search.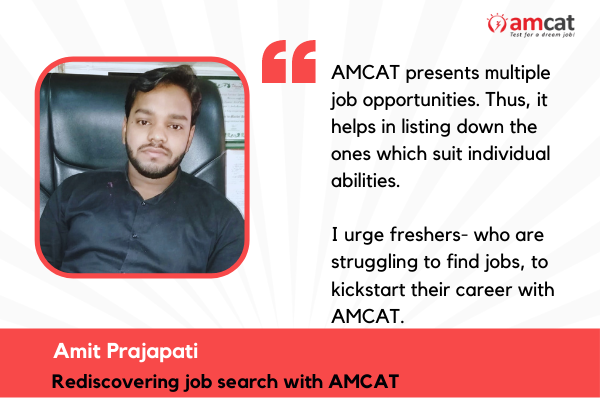 We had a detailed talk with our candidate Amit. He shared how AMCAT has supported him tremendously in his job search. As he continues to do that, he asserted how it has eased out the process for him.
Acknowledging the AMCAT feedback report in leveraging the job hunt, Amit shares how he is optimistic about kickstarting his professional journey with this dynamic assistance.
Scroll down below to find out.
Why did you opt for AMCAT during your job search?
Amit told us," I wanted to start my career in the IT field." He shared how he ended up knowing about AMCAT through various websites on the internet.
He eventually, took the next step by registering himself for the test which he calls off as the best decision taken because AMCAT catalysed his job search.
Book your AMCAT Slot now: Click Here
Please share if you faced any difficulties during your job search?
He shared how he ended up getting relatively fewer interview calls. Indeed, during the present times, many companies have toughened their selection process. However, he is continuing his job search with AMCAT.
With his positive attitude, he will surely ace his goals.
How did the AMCAT feedback report help you? 
"I could demarcate my performance better with this report. Besides, it is a great way to improve myself for the future. "
He appreciated how this report assists in maintaining transparency throughout the process.
Amit has noted down his gaps and strengths. With a pragmatic frame of mind, he is working on his improvement and self-development with these indicators.
Prepare for AMCAT before it prepares you for your dream job with PrepAMCAT: Click Here
 How is AMCAT helping you in your job search?
Trusting the AMCAT job listing, Amit has created his personal directory to support his job hunt.
He is presently continuing with the job search. The biggest advantage of an AMCAT exam is that it is valid for a year.
As an aspiring candidate, you too can engage with this strategy. Even if you don't make it through, take time to self reflect. Review the AMCAT feedback report. After that, work on your strengths and weaknesses. You can take AMCAT multiple times.
Therefore, you too can try your best until you make it through your dream job.
Book your AMCAT Slot now: Click Here
Would you recommend AMCAT to others?
Yes. He shared an assertive remark. "Through Amcat we can get multiple opportunities to apply in companies for job & and easily view and search the job according to our skill. And I think if you are fresher and facing a problem to get a job then it may be a good platform for everyone to start their career."
We wish him all the success in the future.
All the best
Get in touch!