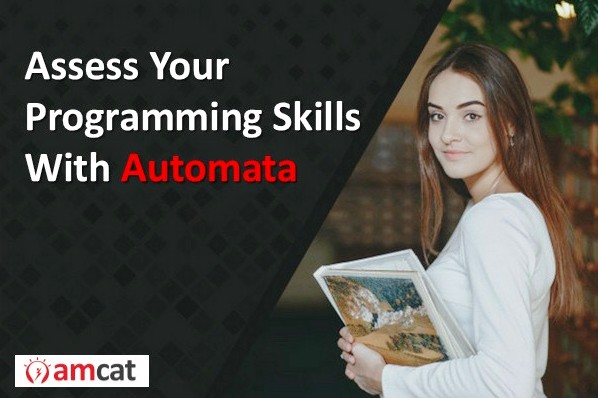 Automata is the thing of the future and the need of the present. It is one of those brilliant opportunities you get to prove yourself to the employers. It allows you to showcase your skills and can be touted as the changing force behind the future IT industry.
While there are so many questions revolving around Automata, the topmost of them is what it really is and why we really need it.
In this article, we will try to address these questions and delve into the importance of Automata to prepare you for a brighter tomorrow.
What is Automata?
"Automata is world's most advanced and only programming assessment that uses machine learning for grading programs."
Automata has helped and continue to help a lot of students become programmers of the future. It allows students to prove their talent to the recruiters.
Say you could not score very well in your semester exams but have a keen interest in programming and coding. What do you do? You opt for Automata!
So far, everyone, from the society to the recruiters had judged you on how much you scored in your exams and not the skills you possess. Automata is a big and grand step in allowing recruiters to see you for the brilliant programmer you are.
Why do we need Automata?
The IT industry has grown by leaps and bounds over the last few years. However, while the industry has seen a rise, the number of fresh, SKILLED talent entering the job market is really less. There is a huge need in the market for good software engineers across all industries.
The need of the hour is not just to find people who can think of a solution to a problem but someone who can figure out an effective and sustainable solution, and write a maintainable and scalable code for it.
Automata works on this need of the industry and uses its smart coding algorithm to find appropriate software engineers for a position.
As Mr. Bharathi Raja N, Placement Officer of Meenakshi College of Engineering puts it,
Lack of commitment, fear towards automata and other coding tests have always been an issue for the students during the placements. Aspiring Minds' 'AUTOMATA' has helped out students improve their analytical ability towards technical skill sets.
Need we add more on how Automata is the thing of the future and why you should be eyeing it, working on it, testing yourself according to it and buying it, NOW!
Conclusion
Knowing the concepts is fine, it is great. However, the real catch is how well you can apply those concepts and construct a solution out of it.
Automata evaluate not only correctness but also how effectively and efficiently you executed a solution. It judges you on the quality of your code and the time you take to come to any solution.
The result? Companies know exactly where to look for the right candidates while you get an opportunity to speak in the programming and coding language and prove your worth.
Note:- "Automata has shown to be a strong selection criterion in the recruitment process of various companies. It can not only increase recruitment efficiency by up to 65% but when used as a selection criterion, helps eliminate bad hires thus driving up organizational efficiency."