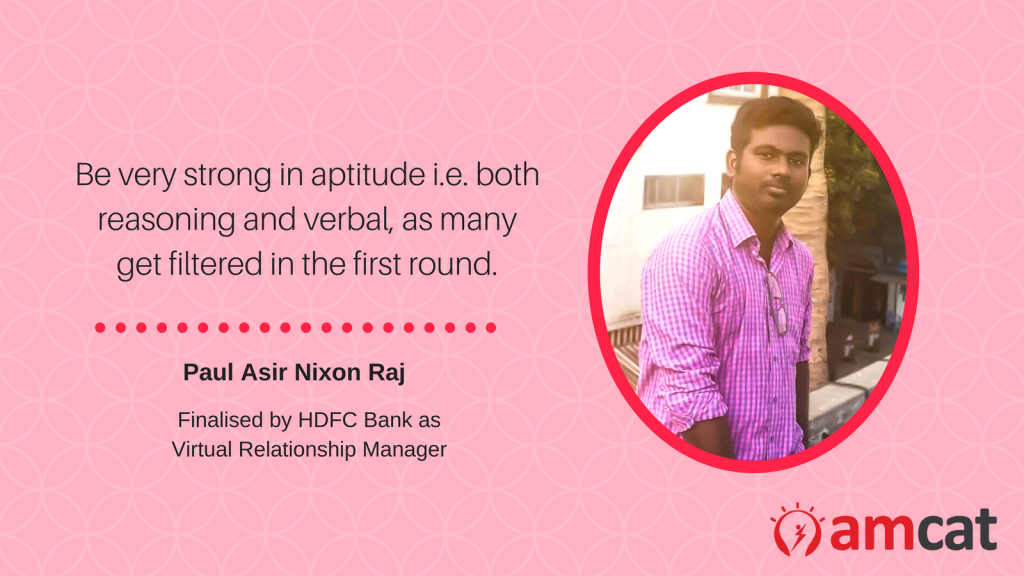 The search for a stable, fresher job often leads many among us onto paths that we could have scarcely imagined in college. Case in point – Nixon, an electrical engineer, who graduated in 2017. His job search graph has brought him to an opportunity with HDFC bank as a virtual relationship manager. With his inputs, we have been able to chart out the whys and compile them here, in a bid to bring together his tale to you.
I took AMCAT in my college in the beginning of the academic year.
Nixon began his job search journey as any other college student. Keen on sports, he admits he was not very serious about job opportunities during his college days. However, the story changed soon after he left college. And he found an answer to his questions with the AMCAT Test.
He prepared for the aptitude test, accordingly and gave the test. "The AMCAT was very useful in grabbing the best jobs in top MNCs. My test results were not up to their expectations, but I got many opportunities based on my score, which led me to grab an offer."
This offer was one with HDFC bank, for a virtual relationship manager role. And this is how his journey went.
"I took the online exam for the post through AMCAT. After cracking the online test we were asked to come to Kochi for the personal interview. Since I was a fresher, I was asked to undergo a GD before the personal interview. After I successfully cleared this, I went for the interview."
And how did that go?
"I got my call letter from the organisation 5 days after my interview."
We asked him, whether, based on his experience, he would recommend the AMCAT to others among his peers? He said, "Sure! It's the right platform for the best jobs across the country. Take the test seriously and you would get the best deals with the best MNCs."
He also shared a few tips that could help other job seekers in getting a good job:
Be very strong in aptitude i.e. both reasoning and verbal, as many are filtered in this round. Be the best, right from the start.
Don't get upset if you don't grab an offer. Stay calm and keep on trying for a better offer.
Hope you were able to find meaning with this achiever's tale from the AMCAT Test stable. You can carve your own by scheduling an AMCAT Test today.