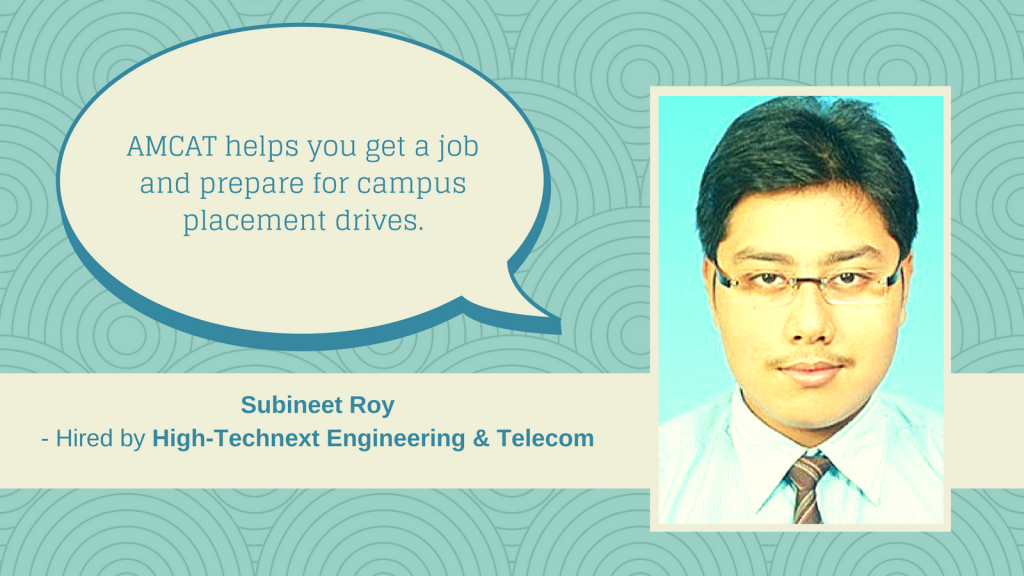 Often, the kind of AMCAT success stories we come across, are of students who are struggling with their job search, usually after they have crossed the threshold of their college life. This story, however, is different. This AMCAT review is a definitive example of the benefit of the test for someone who found a job with it, ahead of campus placements.
We meet ECE student Subineet Roy, who has been selected to work with High-Technext Engineering & Telecom Pvt Ltd, ahead of his 2018 graduation. And all because he chose to give the skill assessment.
Why the AMCAT Test:
"Most companies choose amcat for their hiring process so Amcat was my first choice."
Currently pursuing his engineering degree from the Future Institute of Engineering, Subineet hopes to pursue a talented and growth-oriented career. And to do that, he scheduled an AMCAT Test for himself during his final year.
When asked how he fared with the aptitude exam, he said, "AMCAT had an organised test procedure. It was very helpful and helped me get a clear idea about aptitude exams for top companies."
Would he recommend it?
"Yes, definitely. It helps a lot to get a job as well as to prepare for campus placement drives. AMCAT gives an overall analysis of a student."
Moving on, we asked him how he fared with the next step of his job search journey – getting job interview calls. He said that he had to wait for three months for his first one. "Since then, I have got frequent interview calls."
And what about the one for the job he holds in his hands – with High-Technext Engineering & Telecom?
"I prepared for my job interview by reviewing the company's details and reviewing their current projects. Then, I prepared for those subjects which were closely in line with their projects."
In the end of this AMCAT review, we asked Subineet about learnings he received from the AMCAT Test exercise. Or hacks that could help others prepare for it effectively. He said, "Prepare for the aptitude section well and aim for a high AMCAT score. Learn about all technical topics. And when you make it through to the interview rounds, remain confident."
Congratulations, Subineet Roy. We hope that your experience of taking the AMCAT test serves as an eye-opener for others too. And helps them in deciding for the test themselves too!