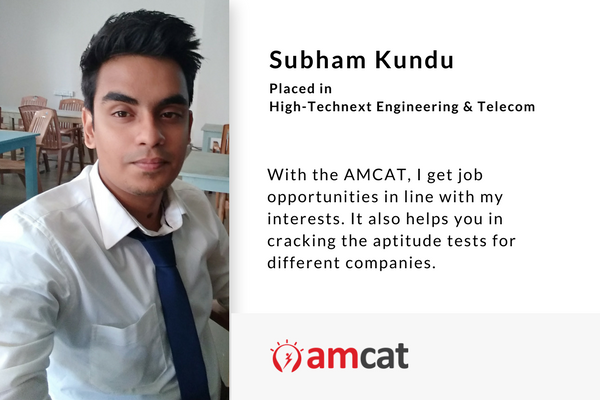 Fresh from our encounters with students who benefitted from the AMCAT as part of their campus placements, we bring you an AMCAT Testimonial which proves why you should take the test. We introduce you to Subham Kundu.
Kolkata-based Subham Kundu is a 2018 graduate, nearing the end of his B.Tech in Electronics and Communication Engineering from the Neotia Institute of Technology Management and Science. And to gain a step up on his upcoming job search journey, he decided to take the AMCAT Test ahead of his campus placement stint. This is his AMCAT testimonial.
AMCAT Testimonial: Subhum Kundu
"A good experience, though tough in the core section…"
We asked Subhum why he decided to take the AMCAT Test. He pointed at the multitude of matched, relevant one can find from the skill assessment test. "I took the AMCAT Test to gain interview opportunities. I had also heard that giving the test helped you prepare and subsequently, crack the aptitude test for other companies."
On the whole, the test was a smooth run for Kundu and he claimed that he only found the core section a little bit tough.
And the other reason – the one he discovered after his entire AMCAT experience?
"With the AMCAT, I get opportunities in a job in line with my interests."
He found this after waiting for two to three months, for his first job interview call. His penultimate interview call came from the High-TechNext company and he managed to crack it. We asked him how he prepared for job interviews.
"I did not prepare too much for the interview process at High-TechNext. I was just myself. I did, however, brush up on my basics."
We asked him for relevant tips for others who would face campus placement interviews. "During interviews, be calm, be yourself and be honest. This are the things that can help you to crack a
job interview."
Congratulations Subham – you managed to crack the campus placement interview of your choice and get placed in a job, ahead of your batch. Would you recommend the AMCAT to others?
"Yes, definitely as it will provide you lots and lots of opportunities."
Take a chance yourself. Schedule an AMCAT Test today.