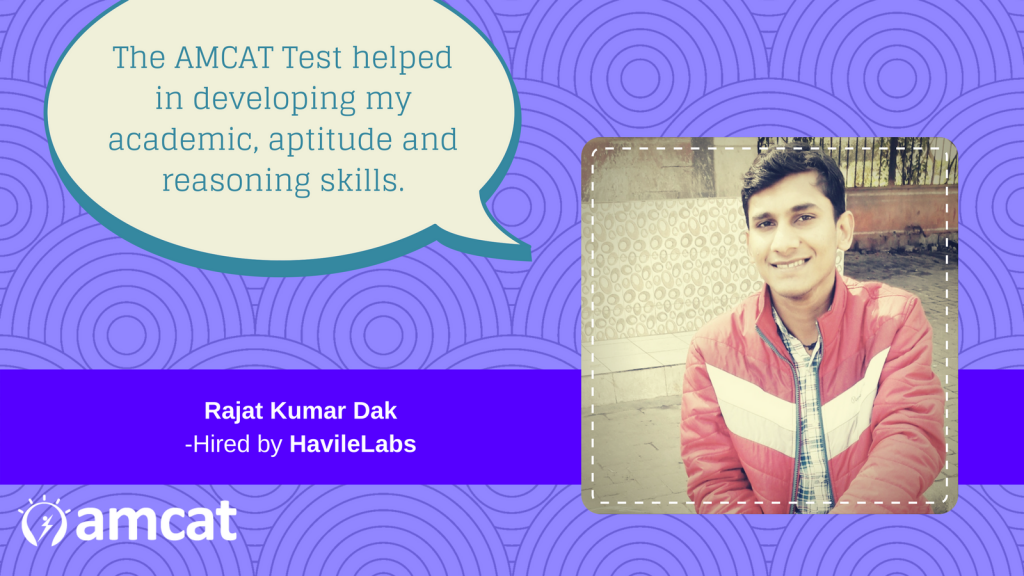 Rajat Kumar Dak completed his B.Tech in 2017 and did not have to wait long to start a new job. His success journey is peppered with stories of frustration, initial failure, hard work and an aptitude test given at the right time.
Taking the AMCAT test
Like thousands of others, Rajat saw an opportunity to build his career and work on his skills through the AMCAT test. The AMCAT test did not just check his knowledge of the subject of his choice, but also tested his logical, quantitative and communication skills and provided a thorough analysis of his strengths and weaknesses.
The result being, that Rajat not only worked harder on his existing skills, but also bagged the job of a Software Developer at HavileLabs Pvt.Ltd.
"I opted for the AMCAT test because it provides great opportunities to search for jobs and know our skills. It was a great experience preparing for the AMCAT exam as it helped in my all round academic, aptitude and reasoning skills development."
Did it help?
"I got my first call within 2 weeks of giving the AMCAT test and received 8-10 job offers", says Rajat.
The AMCAT test opened new job opportunities for him, and Rajat couldn't be happier. As excited as he was on landing a brilliant job, he could not help but reminisce the difficulties he had to face when he was looking for a job. However, the challenging test and Rajat's grit made sure that he was finally prepared for a fresher's job.
Preparing for the job interview
The communication test along with a thorough preparation of Rajat's end ensured that his interview went smoothly.
"I prepared for the interview based on the role offered and the requirements of the company."
Would he recommend the AMCAT test?
"Yes, definitely. I would recommend the AMCAT test to my friends", gushes Rajat. "It is a good way to check your skills and get great job opportunities."
Rajat who is a happy Software Developer in a leading company advises that people should work on their programming, aptitude and communication skills if they want to make it big.
Have any query related to this AMCAT testimonial or have any questions regarding the AMCAT test? If yes, then raise your doubts in the comments section below.