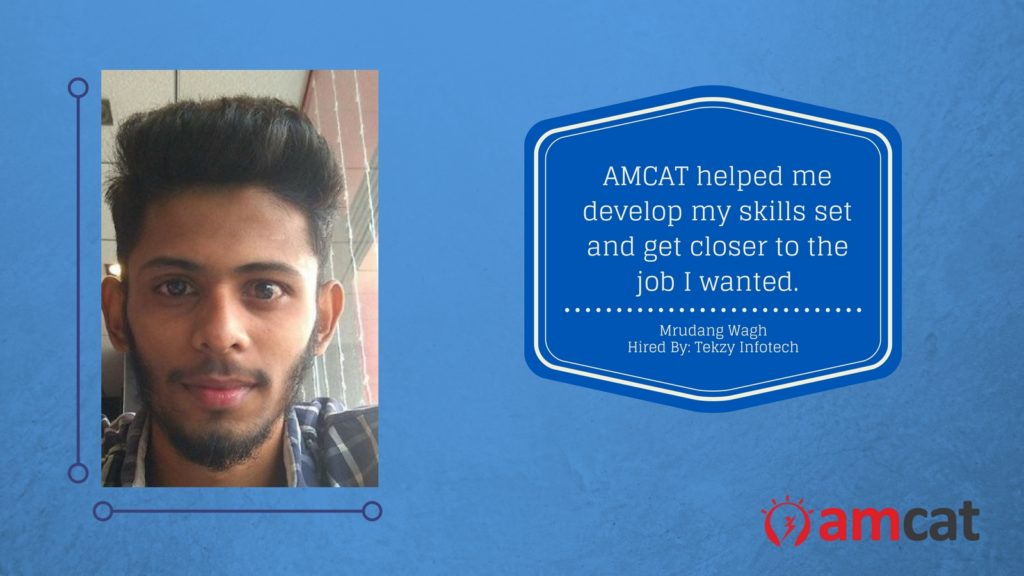 To understand more about how the AMCAT exam helps candidates get closer to their dream career, we got in touch with Mrudang Wagh. A student of Priyadarshini Institute of Engineering & Technology, Mrudang was looking to start a career in the automotive industry when he was introduced to AMCAT.
Let's hear what Mrudang has to say about the AMCAT test –
Why did you opt for the AMCAT exam?
"AMCAT test gave me the opportunity to show my skills sets and aptitude. This was necessary for me to develop to be able to pitch myself as a right aspirant for any decent job."
Mrudang also added how the AMCAT exam was a great experience which helped him realise his dreams. "It was just regular problem-solving practice and learning fast tricks."
When did you get your first interview call? How many did you receive?
For Mrudang, the calls did not start flowing as soon as he gave the test. In fact, he had to wait patiently to receive relevant job interview calls.
"I got the first interview call after nearly a year of giving the test. However, I was patient and that paid off well."
One he got the call, it was a smooth journey for Mrudang who was really nervous about the job interview. However, as it turned out, the interview process was fun and did not ask for a lot of hard work.
Would you recommend the AMCAT to others?
"Yes", says Mrudang without a pause.
"AMCAT exam uplifts your profile and brings you the jobs of your interest and with it a lot more job opportunities."
Any tips that can help other job seekers in getting a good job?
Mrudang Wagh certainly knows what he is talking about when he says, "Go for basic of things irrespective of what you are studying."
Focusing on the basics, whether you want to score really good during the AMCAT exam or come out with flying colours during the job interview, is really really important. If you are clear on your basics then it will make it easier for you to grasp foreign concepts better.
So, still in two minds about scheduling the AMCAT exam? Get clicking and find the job that fits you, TODAY!