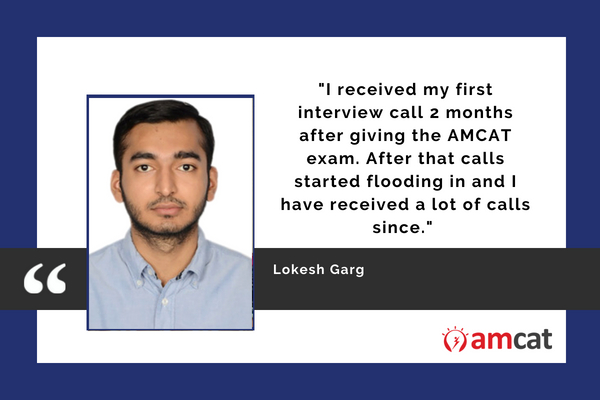 The AMCAT exam can be a rewarding experience for many. With its ability to connect recruiters and job seekers under one umbrella, the AMCAT exam has proven itself beneficial in many ways.
To know more about how effective is the AMCAT test and to learn about the tricks of succeeding in the job interviews, we got in touch with Lokesh Garg.
Tell us something about yourself
"I love mathematics and have a special affiliation for competitive coding. While growing up, I always had this goal in mind that I wanted to be a Software Developer."
Why did you opt for the AMCAT exam and how was the experience?
"Keeping my dream of becoming a Software Developer in mind, I knew it was increasingly difficult to apply and be selected for interviews in good MNC's or startups."

"AMCAT resolved that problem for me as it provided me with a great platform to connect with these companies."

"The AMCAT exam was very logical and interesting. It contained questions from English, Logical Reasoning, and technical questions from subjects like DBMS, C, Data Structure, OS, etc."
When did you get your first interview call?
"I received my first interview call 2 months after giving the AMCAT exam. However, after that calls started flooding in and I have received a lot of calls since." 
How was the interview process at the company? How did you prepare for the interview?
"For the software profile, interviews are quite easy and mainly focused on DS and Algorithms."

"If you are good at what you do and know the subject, then you can easily crack the interview."
Would you recommend the AMCAT to others? If yes, Why?
"Yes, I would recommend the AMCAT exam to others."

"I got so many interview calls and that too from good companies for good profiles."
Please share a few preparation tips for other job seekers so they too can bag a good job?
"Good communication skills are a must if you want to succeed. You should also be able to express yourself properly during the job interview. Apart from that, your basics must be really strong because this quality can add on to your problem-solving skills."
The story of Lokesh is truly inspiring. He had to wait for 2 months before he got an interview call but that did not demotivate him. Instead, today Lokesh realizes the part AMCAT exam and his hard work played in shaping things up for him.
If you too have a success story to tell, then you can drop in your email id in the comments section below and we will get in touch with you.
And, if you are yet to find your footing but are raging to pocket your dream job, then schedule the AMCAT test today and say hello to new opportunities.