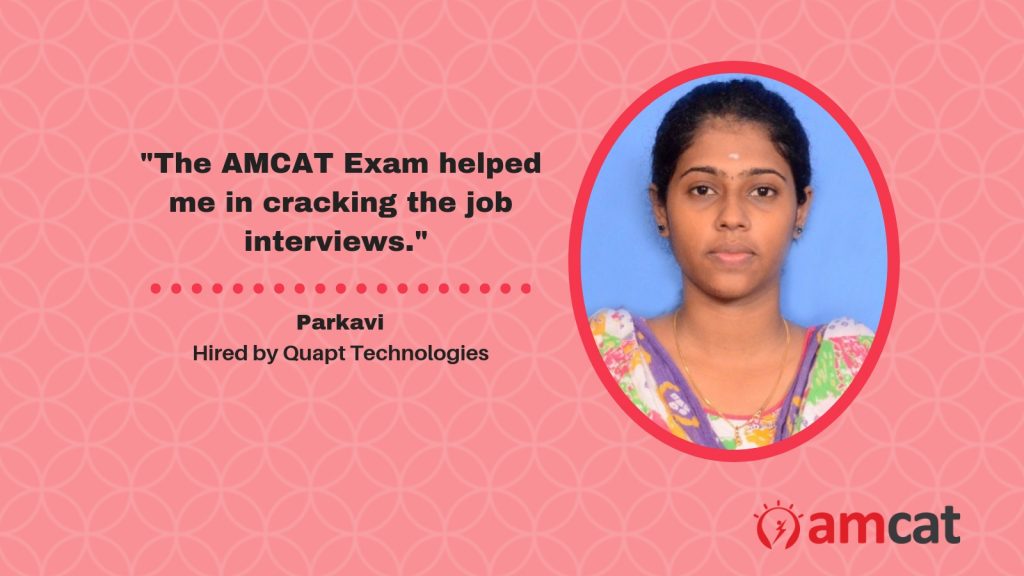 The AMCAT exam has always emerged as a flag-bearer of great job opportunities and has helped hundreds and thousands of students get their dream job. And we are not just saying that because AMCAT is our pet product but because we have seen the difference it has made in other people's lives.
We have had candidates who were not even eligible to sit for their Campus Placements get a job through the AMCAT exam. Students, who had seen their friends struggling to find a job opted for the AMCAT exam and were bombarded with interview offers. While numerous candidates who thought their college name was not big enough and that would come between them and success, got their dream job through AMCAT. All-in-all, we have witnessed the rise of the AMCAT exam and how it has the capability to help the candidates change the course of things.
And, today we are back with another exciting testimonial to remind us how AMCAT is the ultimate key between job seekers and recruiters. So, let's see what Parkavi, who got selected as a Software Tester in Quapt Technologies, has to say about the AMCAT exam –
Why did you opt for the AMCAT exam and how was the test experience?
"The AMCAT test was suggested by my college. It was a great experience and helped me a lot to crack the written exams in the interviews."
Nice!
The AMCAT exam focuses mainly on how well you know your subject. If your command on the subject is strong and you know the basics, then you will find it easier to solve the AMCAT test. And the same preparation will help you immensely in job interviews as you would know how to approach a problem.
Most interviewers are interested in knowing how you react to a difficult question. Even if you can't come up with the right solution, if the steps you took were in the right direction, you are sorted.
How was the AMCAT test experience? Would you recommend it to others?
"Yes, of course!"
"AMCAT is the 1st online test I attended and it has given me a lot of ideas. The 'result analysis' provided by AMCAT was really good and helped me know more about my skills."
Parkavi, who always knew she wanted to make a career in testing and had prepared for it for a considerable time period breezed through the AMCAT exam and got numerous job offers pertaining to her field of interest. She made the best use of the detailed AMCAT result analysis to write her own story of success.
And, you too can pull off a Parkavi if you are sincere about your goals. The AMCAT test can be a companion that can help you make your dream come true and make you familiar with your strengths and weaknesses. But at the end of the day, you need to be determined to succeed and much like Parkavi, take home every lesson learnt to excel in your career.
So, schedule your AMCAT test right away and start preparing for it. In case of any doubts or queries, feel free to drop a text in the comments section below.