In continuation with the part 1 conversation with Nupur Ray, here is the next segment in which we discussed the importance of setting career goals. Along with that, she shared, how crucial it is to align our interests with our aspirations along with industrial insight.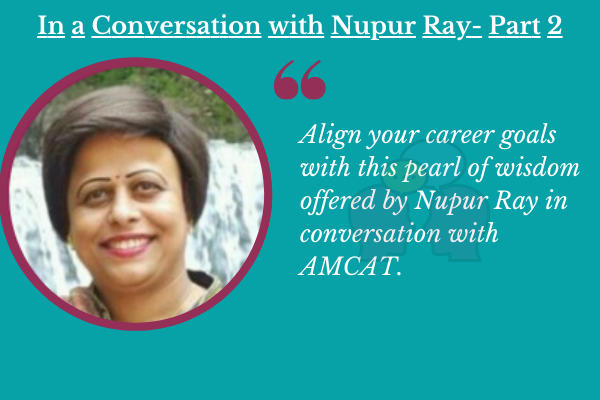 Let's dive straight off into the conversation.
Q1. What is the importance of setting career goals?
Nupur Ray delineated on beholding a professional vision for oneself. Breaking the stereotype, she shared how a goal doesn't have to be a decade or so destination. However, setting a goal, for say, 2-3 years focus your energies in one direction. And that is a fundamental requisite of building a successful career.
She added a remarkable point to remember, "If you do not have a long term goal then you will lose satisfaction which would fall out due to saturation. Therefore, a long term goal is a driving force of a career. You must always have one."
Q2. What does an organisation expect from a fresher? How does setting career goals help in doing that?
Your attitude matters. She went on to explain it by listing down these qualities that make you an industry magnet as a fresher:-
i. attitude to learn and ii. an attitude of being a team player.
Giving a practical outlook, she shared how companies train freshers by inducting them into the process and by offering professional training. Therefore, attitude is a pivotal point that a company looks for in a candidate.
Q3. How to handle rejection, especially during the pandemic? How do we focus on the next job or the next interview?
A3. Again, she beautifully focussed on a subtle aspect that can change your mindset. She added that it is not about someone being rejected but someone not being selected.
Such a minor difference can make a world of difference in your outlook.
So here is how you can focus on your next job:-
i. Study your role thoroughly,
ii. Understand the company's business.
In this way, your mind will align with the common goal of the company and personal aspiration. Henceforth, they can provide the best response in the best way possible without hesitation.
Q4. What do you think about the technological growth in today's time? How will it affect one's professional growth?
It is time to make peace with the fact that it is not about future technology but the very future is technology. Today, you need to understand that technology is at the forefront. Henceforth keep up with the latest developments. it would be great if you pursue an online course.
You may not belong to a technical background. However, this doesn't imply that you cannot learn various aspects of technology. You very well can do so and incorporate it into your non-technical background. After all, today is the age of integration.
There are ample opportunities that the future beholds. All you need to do is keep up with the pace of the same.
Do you want to gain skill certification to enhance your credibility? If yes, then here is a chance for you. Book AMCAT Skill Certification for various specializations: Click Here
Q5.What is the importance of communication skills? 
Again, providing an exceptional answer by focusing on intricacies, Nupur Ray continued, "Communication skills are not about fluency in English. Rather it is more about clarity of thoughts with which you present yourself."
Q6. How to build clarity of thought?
A6. Thoroughly study your job role, company and business. You must read about the present scenarios. in this way, you would get a clear picture in your mind. Hence, you would invariably communicate the way it must be.
Importance of Communication transcends the nature of your job role:-
i. There is a common notion that communication skills are only entitled to the sales job. However, that is not true. Irrespective of any job role, communication skills are the backbone of the industry."
ii. It is only through your exceptional communication skills that you become a valuable resource in the room.
Thus, always add this skill to your career goals.
AMCAT MyEnglish Not only focuses on your language skills but also pays equal attention to business communication and various other aspects of it. 
Click Here to register for AMCAT MyEnglish.
Q7. There so many opportunities in the government and private sector as well? So which one should a person go for? 
It depends on your domain specialisation. She focussed on the fact that finding a job is easy but sustaining it requires an immense amount of expertise and domain knowledge. Therefore, depending on these factors one should choose what suits them the best.
Q8. Is it advisable to sit back and prepare for the interview or should one actively look for a job instead?
Straightforward, today is an agile environment. If you are thinking between stopping job hunting and then studying for an interview, you probably have a limited view.
Both of these steps go hand in hand. You need to understand that there is so much learning in the job search process itself.
So keep learning and keep looking for jobs. Now with online transitions, you have so many opportunities which were not available otherwise.
Four Mantras of Success by Nupur Ray
i. Self Confidence,
ii. Learn to voice out your views,
iii. You must take ownership,
iv. Before doing a job, visualise the outcome of the project.
Q9. How to justify a year gap during an interview?
A9. Again, thoroughly study your role. Just be honest on being asked about your gap year. Thus, don't overthink much. You focus on providing 100% on the job.
Q10. How to introduce in the first interview?
A10. Before you even speak, your presentation matters. It is about:-
i. Your body language,
ii. Your attire,
iii. Confidence,
iv. How you start (with something you want them to remember you for)
v. Smile,
vi. A direct eye contact.
She also focused on how all these points are equally important and are difficult during virtual interaction. Don't worry, we have already shared the nitty-gritty of these aspects. have a look here: Click Here.
So you see how important it is to include all these insights into your career goals. This is the prime point to turn around your budding career into a flowering professional success.
We hope that our conversation with our guest Nupur Ray, a gem of the professional world, helped you in upgrading your mindset from wherever it was.
Incorporate it. Act on it.
All the best
Get in touch!