"AMCAT exam is a one-stop solution for all your professional dilemmas.", says Tushar, our candidate who chatted with us recently. He walked us through his journey of discovering diverse job opportunities with the assessment.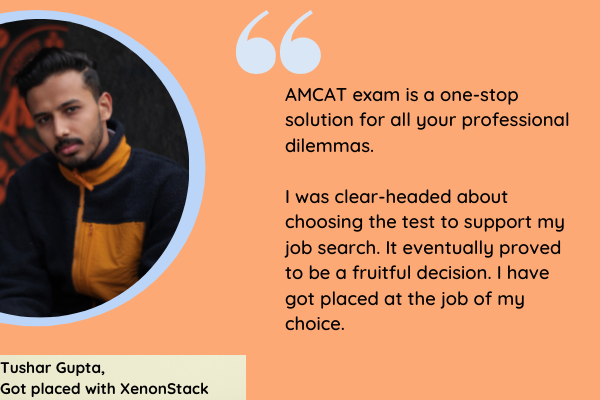 Since he was clear-headed about his career choices and had entrusted AMCAT without a doubt. Henceforth, Tushar underwent a smooth sailing job selection process.
Would you like to know more about his story? Scroll down below.
Q1. Why did you opt for the AMCAT exam while looking for job opportunities?
"I had already known about the platform. Therefore, without a second thought, I opted for it right away for various job opportunities.", Tushar said.
Register for AMCAT exam: Click Here
Q2. Did you face any difficulty while looking for a job?
"Honestly, no. I didn't face any difficulty as such. The reason being, I was clear-headed right from the beginning. I knew I was going to opt for AMCAT assistance which proved to be fruitful later on."
Q3. Tell us about the job you got through the AMCAT exam?
"I got placed with Xenon Stack Company based on my performance. I am grateful that I could kickstart my career with the company of desires through this dynamic platform."
Register for AMCAT exam: Click Here
Q4. How did the AMCAT exam feedback report help you in finding job opportunities?
"The AMCAT feedback report turned out to be a great medium for me to analyse my weakness. By implementing the suggestion, I could improvise on the aspects that will catalyse my professional growth.", Tushar expressed.
Q5. Would you recommend the AMCAT exam to others? Why?
"Of course, I will. It is a powerful platform for freshers and professionals to get easy access to exclusive and high-paying job opportunities which otherwise are hard to find. Along with dynamic assessment, I highly appreciate the feedback report feature. It ensures the transparency of the process which every job seeker desires.", Tushar concluded.

Indeed, Tushar's has been an optimistic journey. This has truly been an outcome of his clarity and foresightedness. We wish him all the success in the future.
All the best
Get in touch!