Fake jobs, rejection, professional uncertainties are some of the factors that take a toll on the mental health of freshers during their job search. Sometimes getting stuck in one rejection stops them from moving forward to explore new opportunities.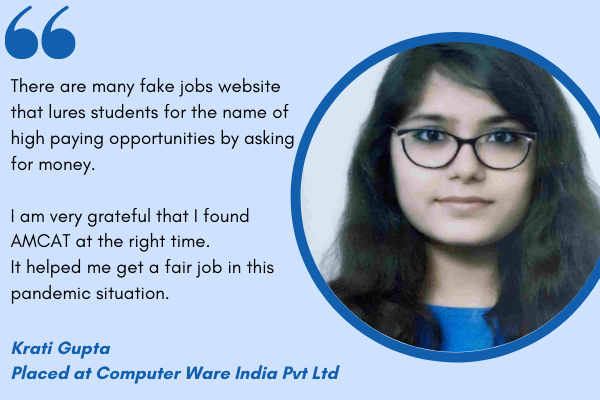 This microscopic view can be easily expanded just with the right kind of assistance. Our candidate Krati Gupta got candid with us while sharing her success journey. She highlighted how some portals tempt aspirants with lucrative job opportunities and ask for money in return. We feel that has become the most common challenge in the present times.
Therefore, with our conversation with Krati Gupta, we tried to unfold various possibilities of how you too can land your dream job as she did. Scroll down to learn more.
Q1. What made you take AMCAT? 
Krati told "Amcat is an all-encompassing solution for job placements. I would like to appreciate how this platform provides a foolproof experience and testing environment. As most of the companies struggle with their test platforms, therefore this assessment comes as a respite to combat such problems. The best thing is candidates become open to 100s of job opportunities which otherwise only remains company restricted." 
"Thus, we can apply to numerous leading companies according to our choice," She concluded.
Indeed this is the fundamental longing of the freshers because they can hop on to the next option instead of engulfing in uncertainties of only one option.
Delve into the priceless insights of dealing with rejection with our eminent guest Nupur Ray:

Click here to know more about the

conversation with her. 
Q2. Tell us about the job you got through AMCAT?
"I am very grateful to AMCAT as exceedingly helped me get a fair job in this pandemic situation. I am happy to share that I landed a job at Computerware – a leading IT service provider, Delhi. The process was smooth and my training has started as well. Honestly, I am enjoying the process and so am satisfied that I made the right decision."
Now, this is a great opportunity to kickstart a career.
"Also, having had experienced fake jobs portals, I am thrilled I got into the right place at the right time.", She added.
Q3. Did you face any difficulty while looking for a job?
"There are many fake jobs website that lures students for the name of high paying opportunities by asking for money. This was a major challenge in my job search. As I am also quite new to the process and something like this was quite unimaginable."
I overcame this challenge with the AMCAT assessment. Experienced it myself, I can vouch for it as a fully secured platform listing only trusted and reputed companies to apply for. 
Key Note. How AMCAT job search website and employability test helps you escape the fake job rut?
AMCAT offers an exhaustive exclusive list of recruiters who are hiring. It includes the directory of MNCs and blooming startups. Besides, you do not get the job until you perform well in that. Therefore, the selection process is highly advanced and secure both from the recruiters and seekers' point of view.
This is precisely the reason why it caters to the majority of India's on-campus and off-campus placements. 
Q4. Would you recommend AMCAT?
"Of course, I will. It is a one-stop solution for all your professional inhibitions. Besides, as I shared, there are many fake jobs portals and assistance looking to entrap you for trivial favours. This is not how things work in a professional scenario. Therefore, you can rely on AMCAT with your eyes closed in this aspect." Krati explained.
She continued, "It is not only limited to assessments but also helps in interview preparation and resume curation as well. Therefore certainly, I will recommend AMCAT to all peers struggling to find a job of their desires."
We were thrilled to find out how we could help Krati through her job search. Indeed, a very bright talent she is. Seeing her finally taking off in her professional journey is our success too. Wishing her all the best. 
An Important Lesson
Fake jobs are rampant today. In that case, freshers must pose double attention to such counterfeit job search alternatives.
Here are few red flags you need to know right away! Check below:
i. Asking for money to get your job,
ii. Easy selection and hardly a strict assessment,
iii. Informal setups,
iv. Assessment or interview only for formality.
If you have come across any such situation, then you need to back out right away. The situation will backfire against you in the later stages otherwise.
Always remember no company asks for money. Also, they look for strong aptitude to select their candidate. This is precisely why they rely on employability tests like AMCAT. As these tests ease out their labour of candidate assessment on various parameters. Therefore, beware of such malpractices.
All the best
Get in touch!