Nupur Ray brings her 18+ years of experience to the table through her conversation with us regard fresher jobs and the current industry scenario. Having shared rich exposure in multi-faceted industries comprising IT, logistics and supply chain, life insurance etcetera, Mrs Nupur Ray is presently heading the employee engagement at Bajaj Allianz. The HR Leadership awardee by World HRD Congress.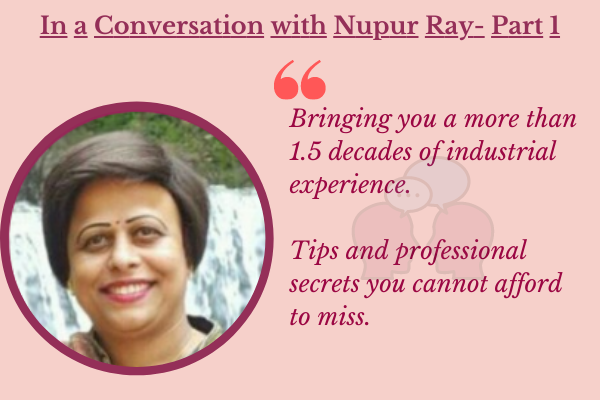 The XLRI Jamshedpur alumnus unravelled some knotty questions posed by freshers and intermediate level professionals in this wholesome conversation.
She debunked some common myths associated with jobs during a covid pandemic, recruiters' perspective and the impact of marks on fresher jobs. There is a lot more to the conversation. So without much ado, dive right in.
Q1. What is your advice to the 2021 batch that is apprehensive about the ongoing uncertainties due to the Coronavirus pandemic? It appears that the hiring process has somewhat slowed down.
A1. She gave an unwonted answer which everyone wants to know.
An Optimistic Outlook:-
She shared how companies are still hiring and how the working culture is changing. Though some may not enjoy the official setup. However, that doesn't imply a dearth of opportunity. Rather, it is making subtle shifts towards digital working, i.e, remote work.
Therefore, you are supposed to accustom yourself to the new job scenario, i.e. work from home. It is rather an opportunity as the location is no more a barrier. Therefore, with a brand new perspective, we moved forward with the next question.
Q2. What one must look for in fresher jobs?
A2. As expected, she listed down some priceless nuggets of wisdom after knowing from her. She shared how you must approach work as an opportunity.
By urging you to start in your desired domain, she went on talking about how these opportunities must be a medium for you to tap an expansive state in the professional world. Instead of viewing it as a duty, go for it as a stepping stone for your growth.
Having said that, Nupur Ray went on talking about how we must view career today. You must drop all the distinctions related to some career being lucrative while others are not as much. This view is narrow and limiting. Henceforth, no matter whatever you choose strive to make it big by learning the nitty-gritty of the professional world.
Focus on Digital Transitions- A Changing Map of Fresher Jobs
Our team tried to dig a bit more about her company Bajaj Allianz, its business model, and the kind of profile they hire for their projects? She again put forward an interesting response. She shared how their company has an amalgamated approach. This mean, they hire different kinds of profiles and working mode. While theirs is majorly a sales-driven company, she shares how sales stand as a macro model. It has subdivisions. It has on-field projects and digital as well. There are many modules to it.
Besides she elucidated how they have a variety of employees such as full-time professional, remote work employees, freelancers, vendor roles, and more. Thus, altogether the organization beholds a flexible hiring process.
"All they are looking for is somebody with a  mindset and will to create value through their job."
Definition of Job- Nupur Ray's Vision
Nupur Ray shares a fresh perspective on this. Every fresher or professional must note this point because their job defines 90% of their success in life professionally and personally too. Therefore your mindset matters. She shares, the job can be any of these three things:-
i. A task,
ii. A career or
iii. An opportunity.
She shares how she looks at a job as a career. It means that she is always open to bigger opportunities. It may be in the company or outside. In this way, she constantly grows.
Q3. How people from CSE background keep up with the industrial demand today?
A3. Two important things you need to take care of:-
i. Follow the industry of your choice religiously and
ii. Short Certification and In-depth Study.
She shares how short term online courses give you the liberty to constantly upskill.
Remember your location is not a barrier anymore.

Learn anything from anywhere.
Besides you can take AMCAT certifications which offer you enough opportunities to showcase your credibility through certifications.
Click Here to apply. 
Something Intriguing about Nupur Ray's Organization
She listed down some condemnatory points that every fresher must look for during their job search. So irrespective of her company or not. Kindly note these criteria which can drastically save you from falling into wrong setups from the very beginning:-
i. Healthy work culture- Treating employees like a family,
ii. Internal opportunities to grow,
iii. Appreciation for new ideas and suggestions,
iv. Peer learning,
v. Vibrant culture.
After an interesting "mid-conversation", let's get back to our QnA round. So the next question is:-
Q4. What would be a red flag for not hiring a candidate?
A4. She summed up it in one word, i.e. mindset. Here are 3 key red flags which you must not fall trap of:-
i. Restrictions in learning,
ii. Lack of collaborative drive
iii. Lack of new perspective.
Q5. Why job rejection should not depress?- From a recruiters' point of view.
A5. She pointed an extremely essential point which every fresher must carry by themselves while looking for a job.
Always remember, there are no good or bad candidates. It is just someone who aligns better with the job role or is more suitable for the work culture. Someone may be highly logical and may fit effortlessly well in a technical role. While some may be a great conversationist for whom a marketing role just lines up effortlessly.
Besides, the mindset of a candidate is the bedrock of job selection.
Thus, your rejection is not an implication of you not being fit for the role. It is more about how well you may blend well with the role. And the recruiter ended up finding a better resource for the same.
Q6. I never secured good marks in my higher education. Do I have a chance to get selected in companies like Bajaj Allianz?
A6. This question is asked at a lion's share. So many freshers, intermediate experience employees are scared owing to the marks secured during graduation or their school.
The notion of low marks somewhat winds up their aspiration of applying for a job.
Nupur Ray's unparalled wisdom debunked these myths in seconds. She said, yes sometimes, companies do have threshold marks criteria. However, considering two situations wherein candidate A has an extremely well marks record. On the other hand, candidate B with relatively low marks but with exceptional communication skills, team working spirit etcetera. The recruiters may end up considering candidate B for selection.
Thus, marks really don't matter in a long run. So take a deep breath and apply for the job you desire.
AMCAT- Bridging the Gap
Besides, every company assess you based on test before they choose you for the interview round. What if this test comes to you? Yes, the concept of AMCAT is based on that only. You are given an intensive assessment for top-notch companies. All you are supposed to do is perform well. And let companies come to you. With an exclusive list of fresher jobs, you can kick start your career with
Do you want to register yourself for the AMCAT exam? Click Here
Note. This was part 1. Click Here for part 2.
All the best
Get in touch!