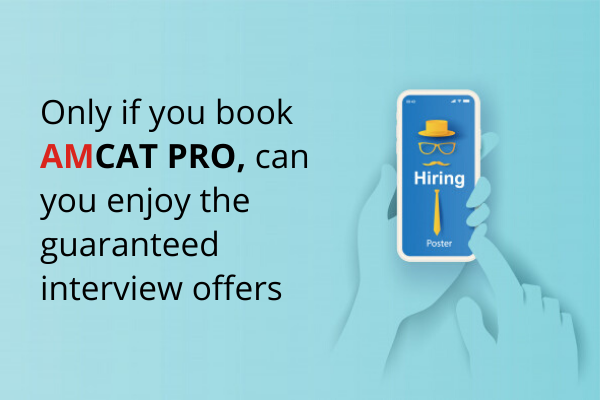 AMCAT PRO: The Interview Assurance Program is a new offering by AMCAT. Like AMCAT, this interview assurance program too bridges the gap between job seekers and recruiters. However, its real charm lies in the minimum three interviews guarantee that it brings along with it.
We will find out more about the AMCAT PRO interview guarantee and who are eligible for it in this blog. So, keep reading…
Get guaranteed interviews
With AMCAT PRO, you get a guarantee of minimum 3 interviews within 3 months of giving the test, depending upon your score. And, if we fail to deliver on this guarantee, then you will get your money back.
Basis your score, you will qualify for different memberships – Gold, Silver or Bronze. And, depending on the membership you qualify for, you will receive interview offers.

If you score 400+ marks in all the modules and 16+ marks in Automata Fix, only then will you qualify for this interview assurance. If you score fewer marks in any of the modules, then you will be considered ineligible for it.
Similarly, your lowest score will determine the membership you qualify for. If you score 500+ marks in most of the modules and 400 marks in any of the modules, then you will qualify for Bronze membership.
Will you be eligible for AMCAT PRO if you book AMCAT?
No, most definitely not!
AMCAT and AMCAT PRO are two very different products. One comes with a minimum three interviews assurance and one without it. Also, with AMCAT PRO our team of experts will search for the best opportunities from across the country and send them to you.
So, if you want to enjoy the interview assurance, then you need to book AMCAT PRO and not AMCAT. Moreover, if you book AMCAT PRO then you will be eligible for all the benefits that come with the regular AMCAT – apply for jobs on the AMCAT portal, connect with recruiters and so on.
If you are a 2019 candidate and haven't booked your AMCAT PRO, then do so right now for there are tons of opportunities waiting for you.
Stop missing out and get the interview guarantee.
All the best!