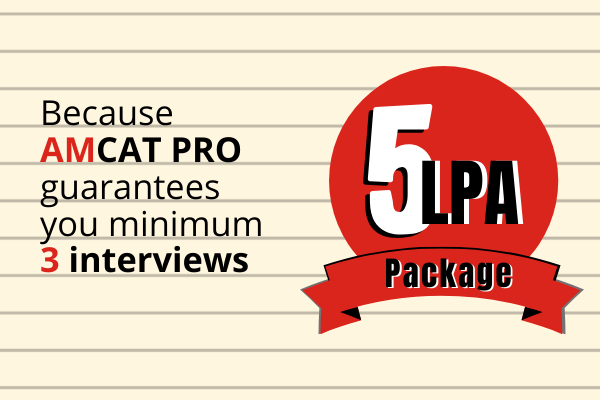 Thousands of people are hunting for jobs in this competitive job market. And, to make it worse, the gap between the employer and the employee is constantly increasing. AMCAT has been successful in bridging the gap between them and has helped nearly 1.4 million candidates find their dream job.
To take it a step further, we (AMCAT) have introduced AMCAT PRO- The Interview Assurance Program. As the name suggests, it comes with an assurance of getting you interview calls based on your AMCAT PRO score. And, you will get your money back if we are unable to keep our promise.
So, read on to learn more about why you should opt for AMCAT PRO.
What is AMCAT PRO?
Unlike the regular AMCAT, AMCAT PRO comes with a guarantee of at least 3 interview calls within 3 months of giving the exam. The salary package will depend on your scores across all modules.
Here is how much you need to score across modules to qualify for the different memberships.

As per the above table, to qualify for this interview assurance program, you need to get at least 400 marks across all the modules and more than 16 in AUTOMATA FIX. Your lowest score in the exam will decide the membership you qualify for. For instance, if you get a 550, 450 and 400 in the modules, then you will qualify for Bronze membership.
Why do you need AMCAT PRO?
Basis your scores across all modules (compulsory and optional), our team will find tailor-made job opportunities for you across the country. That means, you won't have to hunt for the right opportunities as we will send them to you.
AMCAT PRO does everything to make your job search as easy as possible.
Are you eligible for AMCAT PRO?
If you are a 2019 batch passed out and have a full-time degree approved or/and recognised by AICTE/UGC then, you are eligible for this interview assurance program.
Candidates who have purchased AMCAT PRO at Rs 1200+ GST can avail this assurance. You will not be eligible for it if you have booked the regular AMCAT.
So, if you are a 2019 candidate and want to make your job search smooth, then AMCAT PRO is definitely for you.
Don't wait anymore and go get your interview assurance.
All the best!