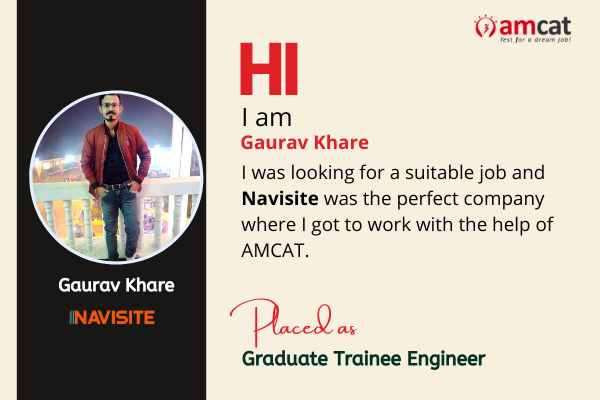 Gaurav stated that taking AMCAT was one of his smartest personal decisions, particularly in terms of his professional future. Gaurav had intended to register for AMCAT because, as a fresher, he found it to be suitable.
Gaurav was enthusiastic about his professional choices and had absolute confidence in AMCAT. Do you wish to know more facts about his journey? To learn more about it, keep reading.
Gaurav, please tell us why did you opt for AMCAT?
Gaurav told us that he opted for AMCAT, to find and get relevant job profiles, and for a better salary.
Tell us about the job you got through the exam.
"I got placed as Graduate Trainee Engineer at Navisite with the help of AMCAT."
Register for AMCAT | India's Leading Fresher's Assessment And Job Site (myamcat.com)
While looking for a job, what all difficulties did you face? Please elaborate.
"To be honest, in the beginning, I gave interviews in the big brand service-based company (Accenture) at the time of campus placement, and I got selected for (ASE) did my initial training there but after document verification, they found that I have a gap of 2 years in between my education. So, they disqualified me, which was very disheartening. Then I motivated myself and started searching for good opportunities through AMCAT and, finally, I found the perfect role and perfect organization for me. All thanks to AMCAT and its team, told Gaurav."
What role did AMCAT play in your job search? Please elaborate.
Gaurav explained, "AMCAT helped me in finding a perfect job role. AMCAT helped me in every manner, sent emails regularly for a better opportunity, and organized regular quizzes to grind my skills. In the end, I got selected for the best opportunity."
How did the AMCAT feedback report help you assess your performance?
"The AMCAT feedback reports made it easier for me to work towards improving my skills."
Would you recommend AMCAT to others? Also, can you mention 3 main points that you liked about AMCAT?
"Of course, I will recommend AMCAT to others, concluded Gaurav.
The things which I liked about AMCAT are:
Emails for better opportunities
Regular quizzes
Feedback reports."
Please feel free to contact us if you have any questions.
We Wish Nothing But The Best For You!