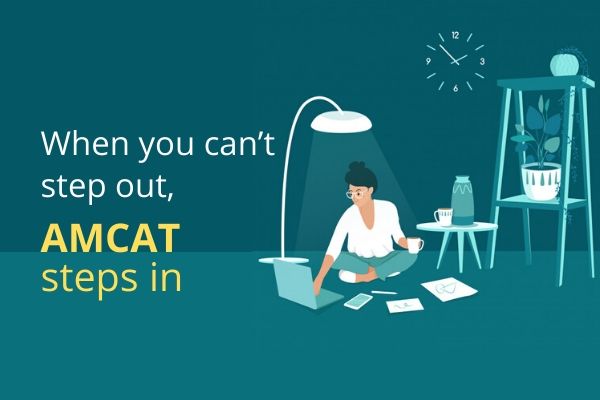 The Coronavirus (COVID-19) is spreading rapidly across the country and our top priority is your safety and health. But that doesn't mean your career should suffer because of it. And, in these unusual times, we are thinking of some out of the box solutions. 
The virtual version of the AMCAT exam is the need of the hour and we are doing everything to make sure that COVID-19 doesn't come between you and your dream job. Here, is how you can book and take your AMCAT exam from home.
How To Book AMCAT Exam?
To schedule your exam, please follow the following steps.
Go to MyAMCAT home page and fill in all your details like your name, stream, contact information, and more. Make sure all the filled details are correct before submitting.
Now, with virtual AMCAT exam, you don't need to select the city in which you want to give the exam. You just need to select the date and time of your exam.
Go to the payment page, apply discount coupons (if you have any) and start gearing up for the AMCAT exam.
After selecting the exam slot, please follow the following steps to give your AMCAT exam at home.
Visit your dashboard by logging into your My AMCAT account with your credentials.
To start your online test, click on the ' Start test' button on your dashboard. The exam link will be active only during the chosen slot time. Therefore, make sure you are on time.
Fill in all the required details. Choose the modules as per your interest and proceed to the test.
After completing the test, you will receive your scores in the next 48 hours.
Once, your scores are generated, you can start applying to jobs on the AMCAT jobs' portal from the safety of your home.
Note: You can only give the AMCAT exam at the specified time slot. Failing which, you will be ineligible for the current exam or will have to reschedule the exam at a nominal fee.
These are the steps that you need to follow to book your exam. Before the scheduled exam, make sure that your computer/laptop is properly working.
Now, get all your details ready and book your AMCAT exam without any more delay. Should you have any query or concern about scheduling the exam, do not hesitate to drop your thoughts and questions in the comment section below. We will do our best to make your AMCAT experience as seamless as possible.
Together we can overcome this hurdle and take a leap towards your dream job.
Stay safe! Stay successful!