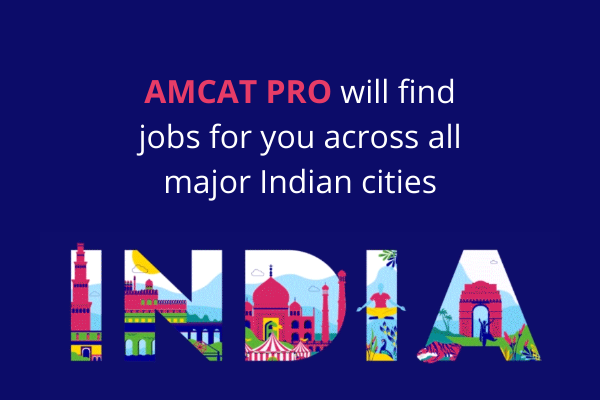 All over India, there is a scarcity of opportunities in the job market. However, fret not because we are bringing AMCAT PRO: The Interview Assurance Program.
AMCAT PRO comes with the guarantee of sending you a minimum of 3 interview calls within 3 months and if we are unable to live up to our promise, then you will get your money back. And not just that, the salary package can be as high as 12 LPA. In addition to that, with AMCAT PRO, you can get job opportunities all over the country.
So, continue reading the blog to know more about AMCAT PRO and the job locations of the interview calls.
The Interview Assurance Progam
As mentioned above, with AMCAT PRO, you will get at least 3 interview opportunities within 3 months or you will get your money back. So, if you want to take part in this win-win program then, you need to score more than 400 across all the modules and more than 16 in AUTOMATA FIX.
The salary package of your interviews will depend upon your scores in all the modules. You can consult the table below to know how much you need to score to qualify for the different memberships.

Your lowest score will determine your qualified membership. For example, if your scores are 450, 500 and 500 in different modules, then you qualify for Silver membership.
So, if you want the highest paying opportunities, then you should aim for the Gold membership. That means, all-round preparation and a firm grip on the syllabus and concepts.
The Job Location With AMCAT PRO
AMCAT PRO has a lot of jobs from all across the country. We have jobs available from all the major metros like Delhi-NCR, Mumbai, Chennai, Bangalore, Kolkata, Pune, Hyderabad and more. There are very few locations that have been left untouched by us. From Jaipur to Guwahati and Kerala to Mohali; we have got tons of opportunities for you.
So, if you are a 2019 candidate with a full-time accredited degree and wants to kickstart your job search with assured interview calls then, AMCAT PRO is definitely the thing you need.
Don't waste any more time and get your interview opportunities assured.
Best of luck!