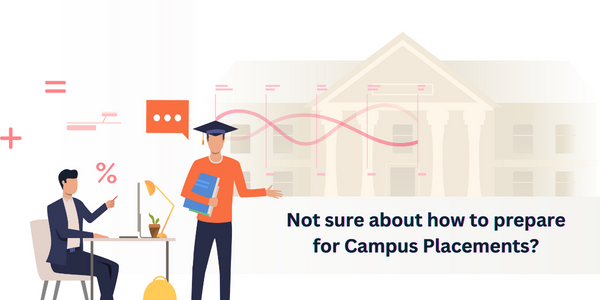 Campus placement is important for all those who are looking to get their first job. This usually takes place in an educational institute wherein hiring managers from different companies visit the institute to select the best candidate for their company. This placement drive enables students in getting their first job if they are able to impress hiring managers with their knowledge and skills.
Even getting a degree with good marks cannot guarantee you a place in campus placement. You will have to make the company believe that you are the right fit for the job by showcasing confidence, and effective communication and by strategically planning on how to answer interview questions. The number of students appearing for interviews is usually higher than the open vacancies with companies, due to which students should start preparing well in advance for the placement.
Some important points that one should be prepared on for every campus placement irrespective of where it is taking place and which companies are participating. Let us talk about important preparation points for campus placement:
Know the Company
Before appearing for the interview in campus placement, do a good amount of research on the company you have applied for. Research should not be limited to a company's products, and services. But should include research on hiring managers, the latest news available in the market on company achievements, company vision, and mission statement, and the company's recent financial performance.
Brush Up on Your Aptitude Skills
The first round in campus placement is usually an aptitude test that checks your reasoning skills, situational judgment, and command over English language. Give different aptitude tests prior to the placement to improve your chances of clearing the placement round.
Prepare Effectively
Always be ready to answer basic interview questions like, tell me about yourself. What are your strengths and weaknesses? Where do you see yourself in five years? Why do you want us to hire you? These questions can be asked in an HR interview or a panel interview. Preparing for these questions in advance will help you in answering more confidently and clearly. You can also do a mock interview with your family or friends to see how well you are able to answer the questions. Also, if you want to excel in this you can give Mock-AI, to be interview ready.
Register for AMCAT | India's Leading Fresher's Assessment And Job Site (myamcat.com)
Make an Effective Resume and Cover letter
Along with educational qualifications, your resume should highlight your skills and achievements. A resume should be free from any kind of punctuation and grammar errors, so make sure to run all kinds of checks before submitting your resume. Also, do not forget to include a cover letter with your resume. A cover letter provides a summary of your strengths and showcases the efforts and time you have spent in preparing for the interview.
Appear confident throughout the Interview
A campus placement can have multiple rounds of interviews and group discussions which require calmness and composure. Do not let stress overpower you. Your good grades alone will not help you get a job unless you are smart and confident in grabbing the opportunity.
Lastly, on the day of the campus placement, appear for the interviews and tests on time. Do not appear casual in your attire. Remember that first impression is always a key.
If you want to clear the placement interview, plan how you would clear it, and then stick to the plan. Be clear on the objective. Start your preparations as soon as the dates for placement interviews are out and take help from your seniors in understanding how the whole process goes on. Stay focused and always put your best foot forward. If you want to have an edge over the rest of the crowd, take AMCAT now and be ready to be placed!
FAQ's
What Is the duration of a Psychometric Test?
Psychometric tests can last anywhere from 5 to 20 minutes, they are frequently pretty brief. However, some psychometric exams require more time to complete than others. The type of test you'll be taking, the role you've applied for, and your job level will all these factors influence how long your evaluation will last.
How Do I Interpret the Results of My Psychometric Test?
It's common practise to determine your score on psychometric tests by counting how many questions you successfully answered.  You should take the time to prepare for your evaluations in advance to make sure that your score stands out from the competition.
What role do psychometric tests have in recruiting?
As previously said, the goal of psychometric testing is to make sure that only applicants who possess the necessary skill sets advance to the following phases of the hiring process. Employers can learn more about your skillset and cognitive talents from these assessments.